Texas Online Casinos – Legal Online Gambling in TX
20 minutes
Last Updated: July 31, 2023
Despite what your first instinct might be, the US state of Texas is largely anti-gambling. State laws are very strict on this matter, and the residents of the Lone Star State have very limited options, which don't include Texas online casinos.
Outside of a small number of tribal casinos, gambling is largely illegal in Texas, save for betting on horses and greyhound races, bingo, and lottery. There are no privately owned casinos, and it's not possible to obtain a license to run one.
In fact, state laws even address the players participating in illegal games, not only the organizers, and those who break the law can face fairly serious consequences. This has been the legal climate for a long time now, making the issue of online casinos in Texas very complex.
Legal Online Casinos in Texas
On this page, we bring you a lot of information about Texas online casinos and gambling, but let's first address the biggest question that probably brought you to this page. Are there any legal online casinos in Texas?
The short and simple answer is – yes.
While the state hasn't regulated online gambling, and players aren't allowed to play on any offshore casinos, there are still a few options that are perfectly legal.
We are talking about social casinos, which manage to stay within federal laws by operating on the sweepstakes model. These sites don't have traditional deposits or withdrawals, which makes them perfectly legal, and playing on one of these will not get you in trouble, even in Texas.
If you're interested in how these sites operate and how they differ from traditional online casinos, you can check out our extensive guide on sweepstakes casinos. If you just want to find a place to play with peace of mind, check out our top suggestions for TX online casinos.
Chumba Casino in Texas

When it comes to sweepstakes casinos, Chumba Casino is at the very top of the list of choices. The website has been running for many years, and it has earned the trust of the players, which is probably the most important thing when deciding where to play.
Chumba is also licensed by the Malta Gaming Authority, a reputable licensing body that regulates many top-tier real money casinos, which certainly adds a lot of legitimacy to the operation.
In terms of gaming options, social casinos don't offer the same kind of variety you'll find on real money sites. There are a decent number of slots, but options beyond that are very limited. Sweepstakes casinos can't feature games from the game providers catering to real money operators, so it is much harder for them to host massive libraries.
All in all, about 100 video slots are offered on the site, alongside a few blackjack variations, a couple of RNG roulette wheels, and a few popular video poker variations, including Jacks or Better.
Luckyland Slots Texas
Luckyland Slots is another quality option for those looking to play online casino games in Texas. You can access the site through various browsers, and there is also a dedicated Android app, so it's always easy to access your account and have some fun.
The game selection here is somewhat smaller than what you'll find on Chumba. There are about 80 video slots on offer, but not much else. The only table game available at Luckyland Slots is blackjack.
For slot fans, however, the site is a good pick. New titles are added fairly regularly, and you'll also find a fair number of games with progressive jackpots. So, despite this being a sweepstakes casino, you can actually win really big if you get lucky.
Pulsz Casino TX
Although it doesn't enjoy the same popularity as the other two, Pulsz Casino has much to offer to Texas players, especially those who like the variety. There are over 500 slots available on the site, which is significantly more than what you'll find on other social sites, and that alone makes it worth checking out.
The casino also offers some nice bonuses and promotions, and the minimum purchase amount for coins is very low ($5). However, the cashout amount is higher than at other sites, which isn't ideal, but it's not the deal breaker, either.
You'll also find some of the biggest jackpots around at Pulsz Casino, some of them even reaching seven figures, which is quite shocking for a sweepstakes site.
As for other options, the number of table games is quite limited, but that's just the reality of sweepstakes casinos. If you're not into slots, these sites leave a lot to be desired.
Texas Casino Laws & Regulation
Being a state that has given the name to the most popular poker variation on the planet, you'd think Texas is quite gambling-friendly, but that'd be a very wrong assumption.
Current gambling laws in the state explicitly make nearly all forms of gambling illegal, including poker, slots, casino table games, and more. Texas only allows horse and greyhound races, bingo, and state lottery.
The only places exempt from these rules are tribal casinos, but there are certain groups that would like to see those shut down as well. Their efforts have been partially successful, as one venue closed down, leaving only two casinos in the state.
Regulating Online Casinos in Texas
Given the current state of laws, the future of Texas online casinos doesn't look bright. There have been some movements in the state to change the laws and allow for some more leeway, but none of these efforts focus on real money online casinos.
One group is trying to legalize land-based casinos (outside of tribal properties). They've made some progress thanks to significant money backing their efforts, but there is still a long way to go. The general public in Texas seems open to legalizing casinos, but politicians have yet to find common ground.
The other group is the Texas Sports Betting Alliance. They work towards legalizing mobile sports betting, and given recent changes in the US, their efforts could finally bring some results.
But there is virtually no movement on that front when it comes to online casinos in Texas specifically. It is safe to assume that there will be no changes until sports betting is regulated, and even then, there is a long road ahead. It will be at least a few years before Texans can play on fully licensed and regulated casino sites.
Sweepstakes Casinos vs. Offshore Sites in Texas
As many of you might be aware, many offshore casinos still cater to players from the United States. Some of these casinos also welcome players from Texas, and you might be wondering, what's the problem there?
After all, offshore casinos have much bigger gaming libraries than sweepstakes sites, they offer better bonuses, and there are many other perks that social casinos simply can't bring to the table.
However, you should avoid offshore sites at all costs and stick to sweepstakes casinos in Texas for a number of reasons. Below, we'll list some of the most important ones you should know.
⭐ Avoiding Legal Problems
Not all US states treat illegal gambling the same. Players are left alone in some states, and the law focuses only on game organizers. In Texas, however, even playing at an illegal offshore casino can get you in trouble.
While this isn't super likely to happen, the law clearly states that players playing at online casinos are different from those playing in completely private games and can be prosecuted. Even the remote possibility of getting into this kind of trouble makes it not worth it.
⭐ Money Transfer Issues
Getting money to and from offshore casinos in the US has been a problem for a long time. The harsher the anti-gambling stance a state has, the bigger these problems will be, so you can expect that deposits and withdrawals to offshore sites from Texas will cause you a lot of headaches.
Depending on what payment method you try to use, you can expect failed attempts, calls from your bank, and, in some extreme cases, a bank might even close your account as they don't want to have problems.
None of these issues apply when you play at sweepstakes casinos. Since all deposits are actually purchases, and withdrawals are sent from companies that aren't casinos, complications are very rare.
⭐ More Transparency
While state authorities don't regulate sweepstakes casinos, they do walk a fine line between legal and illegal, doing all they can to stay on the right side. Therefore, they offer much more transparency, and you can have much more confidence that their games are fair and everything is up and up.
Many offshore casinos in Texas don't care about any of this. Since they're already operating against the law, they don't have to follow rules or procedures. Even if you have concrete proof something is wrong, there is no authority you can turn to help you.
⭐ Better User Experience
It wouldn't be fair to say that all offshore casinos are all bad. Some of them do try to keep their players happy and satisfied. Many, however, are only concerned about making as much money as possible as quickly as possible.
This often results in a poor user experience. If you encounter a problem, customer support will do very little to assist you, as some of these brands know that they won't be around for too long.
Sweepstakes casinos like the ones we've recommended earlier spent years building their reputation. This reputation is very important to them, as it helps them stay in business and continue to attract new players. Therefore, your average experience will be much better at one of the sweepstakes sites.
⭐ Simpler & More Honest Bonuses
You may think that offshore casinos offer great bonuses. Some of the offers you come across sound really great on paper – sometimes almost too good to be true. And, not surprisingly, that's often the case.
These sites use misleading tactics to attract players and get them to deposit money. Once they do it, however, the problems start. Many players realize too late that these "awesome" bonuses come with so many restrictions and unreasonable requirements that they don't do anything to improve your experience or winning chances.
On the other hand, sweepstakes casinos offer much smaller bonuses, but they are very clear and simple. You know exactly what you're getting, and there aren't dozens of paragraphs of fine print that you need to read through. The sheer value may be small, but it is the actual value.
How to Play at Sweepstakes Online Casinos in Texas
Even though sweepstakes casinos are legal in Texas, many people haven't had a chance to play on one of these sites and are confused by the concept. Luckily, signing up and starting to play is quite easy and won't take much time or effort.
If this is your first time joining a sweepstakes casino, follow the steps below, and you'll be ready to join the action in no time.
Step 1. Pick Your Sweepstakes Operator
You can choose from several social casinos, but we recommend you stick to the ones mentioned on this page. These have been tried and tested, so you can know what to expect, although other solid options exist.
You should focus on the game selection the site has to offer, payment methods they accept, and promotions available to new players. Find a site that fits your personal preferences in these important areas and go with it.
Step 2. Open Your Account
Just like with traditional casinos, you'll need to open a player's account before anything else. With sweepstakes casinos, this process is quite simple, at least to begin with. You'll just need basic details like your email and your desired username. Some will even let you register in a single click using a Facebook account.
You will need to add other personal information later on before making a purchase. However, to kick things off, this basic account will do, as it will let you play for fun and explore the casino without any financial commitment.
Step 3. Purchasing Coins
If you want to play for real money, you'll need to purchase some Gold Coins. That's how you make "deposits" with social casinos. Every time you purchase a batch of Gold Coins, you receive a free batch of Sweeps Coins, which can be used for real play and exchanged for real money later on.
Different casinos have different options, so take some time to explore how you can get the best value for money. As a new player, you'll likely have an opportunity to take advantage of a welcome promo, receiving some additional Sweeps Coins on your initial purchase.
Step 4. Real Play
Once you have some Sweeps Coins in your account, you can start playing for real. Most casinos offer two distinct modes. There is the Gold Coin mode, in which you can play different games, but winnings are just numbers on the screen – you can't exchange these for actual winnings.
Then, there is the Sweeps mode. Here, you can use your Sweeps Coins to play, and your Sweeps balance can be exchanged for cash prizes. So, if you're looking to gamble online from Texas, this is the mode you'll want to use.
Step 5. Exchanging Sweeps Coins for Cash
When you're done playing or just want to exchange a portion of your Sweeps Coins for real money, you can do so easily through your account. The process is quite similar across all casinos and fairly straightforward.
You'll choose the number of coins you want to exchange from your account section. After that, you'll select the payment method to use (bank transfers, PayPal, gift cards). Once you finalize the transaction, you'll need to wait a few days, and the exchanged amount will appear in your bank or PayPal account just as if you'd withdrawn money from a traditional online casino, but without added hassle.
Best Texas Online Casino Games
If we are talking about legal online casino Texas options, the versatility of games you'll find on sweepstakes sites isn't impressive. Compared to offshore operators, it is quite limited, but it's still better than nothing.
As mentioned a few times on this page already, slots are the largest group of games you'll encounter. Other options exist, but if you're a fan of table games or video poker, you should keep your expectations in check.
Texas Online Casino Slots
Sweepstakes casinos focus almost exclusively on online slots, and you'll find a good selection of these games across all sites. All operators have at least a few dozen of these games on offer, and some, like Pulsz, feature libraries with over 500 titles.
Video slots offered by social casinos are generally not as elaborate or polished as those available in traditional real money casinos. These games tend to be colorful but are often not well-optimized, which can influence the gaming experience.
On the other hand, many of them do have cool features and interesting gameplay dynamics that you'll enjoy. There are quite a few progressive jackpot games, too, so you can try your luck chasing a big win.
You'll be able to play all these slots on your mobile device, which certainly helps. Sweepstakes casinos focus quite heavily on mobile users, so if this is the way you prefer to enjoy your gaming, you won't be disappointed.
Online Table Games
If you happen to be a table games aficionado, Texas online casinos will not meet your expectations. While there is plenty to choose from in the slots department, the selection of table games is very limited across all sites.
Most operators only offer the bare basics, such as blackjack and roulette, and even here, you won't find much variety. It is usually just one or two blackjack games and a single roulette wheel, so don't expect funky side bets or novel variations.
Is this enough? It really depends on what you're looking for. If you're happy to play classic blackjack and don't need anything else, then you won't care too much.
Online Video Poker in Texas
Sweepstakes casinos aren't famous for their selection of video poker variations. You'll likely encounter the most popular variants, like Jacks or Better and Deuces Wild, but not much beyond that.
For those looking to play video poker exclusively, this is probably not enough, especially since some social casinos don't offer the game at all. On the flip side, this could be just the motivation you need to give slots or some other games a try.
Future of Texas Online Casinos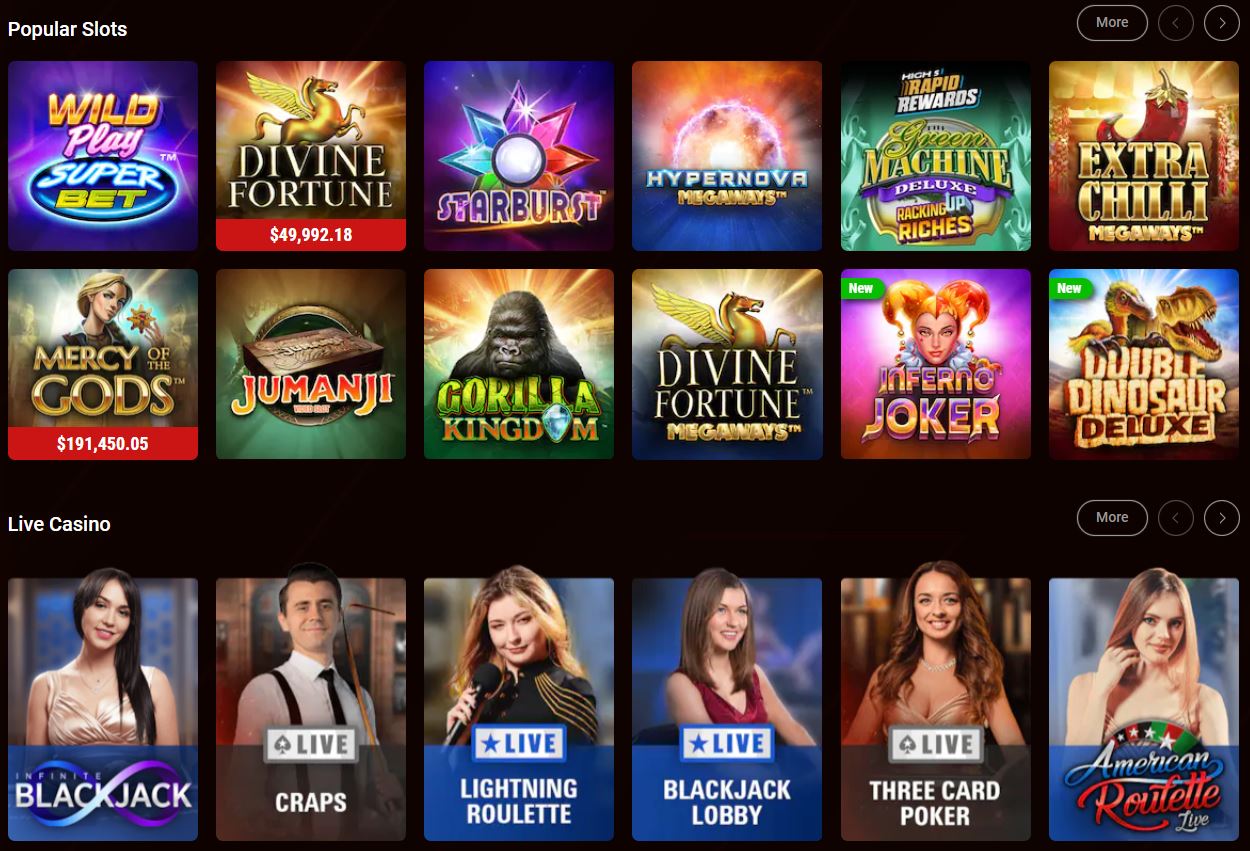 At this moment in time, the future doesn't look too bright for Texas online casinos. The current legal situation makes it unlikely that a law regulating this particular area will be passed in the next few years.
Right now, groups are lobbying for regulated land-based casinos in the state and those focusing on legalizing mobile sports betting. It is safe to assume that those two things will come first, and only then will Texas online casinos even become a point of discussion.
Even so, once the legalization eventually happens, a few operators will likely jump at the opportunity, especially given that this is a large market with over 30,000,000 people.
BetMGM Casino Texas
If there is one casino that we'll likely see going live the moment the legal situation has changed in Texas, it's BetMGM. The operator has a presence in all regulated states in one way or another (casino, sports betting, or both), and they wouldn't miss an opportunity to add Texas to that list.
A huge gaming portfolio, big bonuses, and quick payouts are just some of the things that this operator offers across the board, and there is no reason to think BetMGM Casino Texas would be any different. They'll likely be quick to the market and try to establish their presence.
PokerStars Casino Texas
For PokerStars, Texas could be an interesting market primarily because of poker opportunities. However, there should be no reason for the operator not to launch its casino product alongside the poker platform.
Based on what we've seen in other states, PokerStars Casino Texas likely won't be the largest or the most versatile one, but it will bring the operator's unique rewards program and some other special features, like slot races, that players tend to enjoy.
FanDuel Casino Texas
FanDuel is another online gambling platform that we could see go live in Texas once there is a legal environment for it. This operator has been spreading through the United States, slowly becoming one of the major contenders in the gaming industry.
While the platform focuses more on sports betting, FanDuel Casino Texas would certainly be a nice addition to the mix, bringing to the table its entertaining promotions and quality gaming options, including some fun progressive jackpots.
How to Stay Safe Playing at Texas Online Casinos
Staying safe when gambling online is of the utmost importance. It doesn't matter where you play from or what your particular situation might be. The safety of your money and your personal information must always be the first priority.
Because of this, we've developed a few simple but effective pieces of advice to help you stay safe when finding and playing at Texas online casinos. Follow these the best you can to ensure a safe, pleasant, and stress-free gaming experience.
Tip #1. Stay Away from Offshore Sites
Offshore online casinos use different strategies to attract players and give them the impression they're a safe option. Some will even go as far as to lie they're completely legal. This is never true.
Outside of sweepstakes (social) casinos, Texas has no legal online casinos. It doesn't matter what a site might claim; it is impossible for any casino site to operate legally in the state. Thus, you must avoid these operators at all costs and save yourself a lot of trouble.
Tip #2. Do Your Own Research
Using sites such as this one to get information about online casinos is very useful and will help you avoid many scams and shady operations. We follow strict editorial guidelines, so you can always trust what you find here. However, things change quickly on the internet, and it's not always possible to keep up with everything.
This is why it's also always good practice to do your own research. Check out the casino you want to play on, see what other users are saying, and ask your own questions. That way, you'll likely get fresh info and get the best idea of what to expect.
Tip #3. Carefully Read the Terms and Conditions
Regardless of how experienced you may be, the fact of the matter is that all online casinos have their own rules. These describe what you can and cannot do, especially regarding bonuses and promotional prizes.
It's good practice to spend a few minutes reading through the operator's terms and conditions to see if there are any confusing red flags or things. If you do notice any of these, proceed to the next step.
Tip #4. Reach Out to Customer Support
If you have any questions about the online casino, don't hesitate to contact customer support and ask for clarification. This is a part of their job, and how they handle your request will tell you a lot about the kind of casino you're about to sign up with.
Things aren't necessarily black and white all the time, as support agents may be swamped and slower to respond. However, their overall attitude is usually a good signal and one that you should factor in when making a decision.
Tip #5. Cash Out Frequently
One final piece of advice about staying safe when playing at Texas online casinos is not to keep too much money in your casino account. Cash-out often and only keep the amount you need to play with.
This will protect you against any unexpected developments, ensuring your money isn't held hostage in case of complications with the site. Beyond this, having less money in your casino wallet will make it easier to gamble responsibly and stick to your limits.
Texas Online Casinos Summary
It will be a while before there are fully licensed and regulated Texas online casinos. The state seems quite a bit away from passing the relevant legislation like we have on NJ, PA, or MI, so players' options remain very limited.
As things stand right now, the only legal way to gamble online in Texas is using social (sweepstakes) casinos. These sites may not have the largest gaming libraries or the biggest bonuses, but they are not illegal, and they let you play for real money, even if there are a few extra steps you must take.
Online Casinos in Texas FAQ