McLuck Casino – Get Your Free Sign-Up Bonus & Try The Best Slots
18 minutes
Last Updated: August 29, 2023
McLuck is a brand-new social casino that accepts players from 44 American states and offers over 400 unique casino game titles.
Like all social casinos, McLuck Casino is focused primarily on fun social play, with Gold Coins (GC) being the primary currency in use, while Sweepstakes Coins (SC), which you can get for free with your GC purchases, give you an opportunity to win some real cash prizes. Check it out yourself.
1

Up to 57,500 Gold Coins +

Free 27.5 SC
Why Play at McLuck Casino
In this in-depth McLuck Casino review, we will look at every important aspect of the casino, teach you how social casino gaming works, and help you determine if McLuck Casino is the right site to register at in 2023.
✔️ McLuck Casino Pros
More than 400 unique video slots
Free GC and SC on registration and daily
Promotional and social media contests and giveaways
Redeem your SC for real cash prizes
Available on all mobile devices
🔴 McLuck Casino Cons
No table games
Few payment options
Some restricted states
McLuck Casino Bonuses – Promo Code & More
As a new player joining McLuck Casino, you have a lot to look forward to, starting with the free Gold Coins and Sweepstakes Coins you can claim without any purchase.
The moment you sign up for a free player account, you will receive a welcome bonus worth 7,500 Gold Coins and 2.5 Sweepstakes Coins, no strings attached.
This bonus is only the first of the perks you will get, and you won't need any McLuck Casino bonus code to claim this offer. Simply sign up for an account, and the Coins will immediately be added to your balance.
From here, you will be able to purchase more Gold Coins for real cash, and you will receive additional Sweepstakes Coins with every purchase, which are always free.
McLuck Casino Welcome Bonus

The first part of the McLuck Casino welcome bonus, worth 7,500 GC and 2.5 SC, is added to each player's balance immediately upon registration.
However, there is more up for grabs if you are a new player, with the following special bonus offers available:
$9.99 – Receive 50,000 GC and 25 Free SC. Play now.
$74.99 – Receive 200,000 GC and 100 Free SC. Play now.
The $9.99 purchase is available only to players making their first purchase with the operator, and it offers a significant boost in terms of free SC you will receive.
The offer is a valuable perk for first-time players at McLuck Casino and gives you a great chance to get familiar with both GC and SC play with minimal investment.
Free Daily Rewards
Whether you have made real money purchases with McLuck Casino or not, the operator will give you some free rewards every day.
By simply logging into your account every day, you will receive 1,500 GC and 0.20 SC daily, with up to 2 SC per day available for the more active players.
These daily rewards mean you will get some free action at McLuck Casino every day, regardless of your investment, making it a great place to play even if you don't plan on spending any real money to play.
Free Coins via Social Media
McLuck Casino's social media accounts are quite active, and they offer players an opportunity to win some free coins each and every day.
Make sure to follow the operator on all social media platforms, and you will get a chance to win free Gold Coins and Sweepstakes Coins through a variety of competitions and tournaments each week.
McLuck Casino makes sure to give players plenty of extra value and free Coins, and you can claim your share by being more active than others and making sure to enter each and every competition.
Can You Win Real Prizes at McLuck Casino?
McLuck Casino is one of the best sweepstakes casinos, which means it exists primarily to give players a chance to experience casino gaming and have some fun without any risks involved.
Gold Coins play exists only for fun, and all Coins you win at these games exist only for entertainment and prestige among your friends who play on the platform.
On the other hand, Sweepstakes Coins offer another interesting element, as you can easily redeem SC for real cash prizes at a rate of 1 SC per $1.
The moment you reach a balance of 75 SC, you will be allowed to redeem your Coins, and the operator will pay your real cash rewards into your account shortly.
The best thing about it is that you will receive free SC every time you buy some GC to play with, and any additional SC you win in the games will instantly be redeemable for real cash prizes.
GC and SC McJackpots at McLuck Casino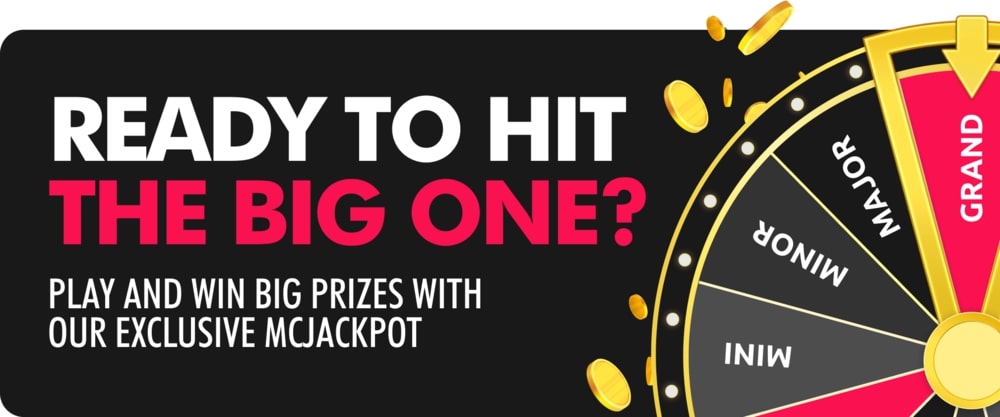 Whether you choose to bet Gold Coins or Sweepstakes Coins, McLuck Casino offers you a chance to win valuable jackpots via its McJackpots promotion.
Gold Coins players will automatically compete for the four jackpots with every spin of the reels on any slot machine, while Sweepstakes Coins players must opt for McJackpots to be in contention.
Gold Coins McJackpot
Whenever you play McLuck Casino slots for Gold Coins, you will automatically be in with a chance to win one of the four McJackpots offered on the platform.
The four jackpots start at different levels, and all participating players will pay either 0.5% of their GC balance or 100 GC per spin (whichever is greater) to participate in the promotion.
The four possible GC jackpots are:
GC Grand McJackpot: Starts at 200,000,000 GC
GC Major McJackpot: Starts at 2,000,000 GC
GC Minor McJackpot: Starts at 200,000 GC
GC Mini McJackpot: Starts at 10,000 GC
Sweepstakes Coins McJackpot
Players playing for Sweepstakes Coins are given an option between participating and not participating in the McJackpot promotion and will have to opt-in to be a part of the race.
If you wish to go after the jackpots, you must pick any SC slot on the platform and click the opt-in button at the bottom of your screen.
Once you have accepted the rules of the jackpot game, every subsequent spin of the reels will give you a chance to win any of the four jackpots in play.
The four SC jackpots offered are:
SC Grand Jackpot: Starts at 100,000 SC
SC Major Jackpot: Starts at 1,000 SC
SC Minor Jackpot: Starts at 100 SC
SC Mini Jackpot: Starts at 5 SC
Keep in mind that opting-in for the SC McJackpot promotion means you will be charged an extra 0.10 SC for every spin you make at SC slots, with the amount attributed towards the progressive prize pool of the jackpots.
If you decide to, you can always opt out of the SC McJackpot promotion, at which point you will no longer pay the extra 0.10 SC per spin or have a chance to win the jackpots.
Registering and Playing at McLuck Casino
We have explained how social casinos work and how you can win real cash prizes when playing with free SC, so now let's look at the actual registration and gameplay process you need to follow at McLuck Casino.
Creating Account
The first step in playing at McLuck Social Casino is to set up an account with the operator, currently available for residents of 44 states.
You will be able to play from all states apart of Alabama, Georgia, Idaho, Kentucky, Nevada, and Washington.
Provided you live in any of the other states, you can register for an account by filling out a simple form with details such as your name, address, date of birth, and more.
To simplify the process, you can also complete your McLuck Casino registration by connecting with your Google or Facebook accounts, allowing you to set up your new account in less than a minute.
In either case, the registration process is very fast and secure and will not require you to share sensitive details such as social security number or banking information.
McLuck Casino Login
Once you have set up your McLuck casino account, you will gain full access to the platform, allowing you to play both Gold Coins and Sweepstakes Coins games.
At first McLuck Casino login, you will be required to provide your username and password in full, but you will be able to save your details for future logins.
The login data you get during the registration will also be used for mobile McLuck Casino, allowing you to play on your mobile phone or tablet.
Getting Free Sweepstakes Coins
As soon as you set up your McLuck Casino account and log in for the first time, you will receive your first free gifts, including Gold Coins and Sweepstakes Coins.
There are multiple ways to receive Sweepstakes Coins on the platform, which you can use to play games, win even more SC, and subsequently redeem them for real cash.
Some of the best ways to receive SC include:
Get 2.5 Free SC as soon as you register with McLuck Casino
Get 0.2 Free SC on your first daily login
Get 25 Free SC when you make your first GC purchase for $9.99
Get up to 100 Free SC for referring your friends
Get Free SC from various social media and other contests
Purchasing Coins at McLuck Casino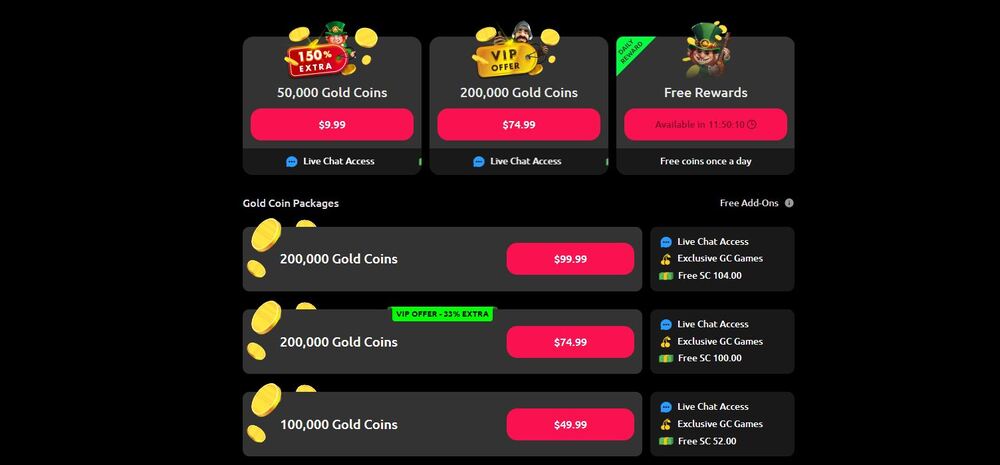 Playing with Sweepstakes Coins is fun and can lead to winning some real cash prizes, but Gold Coins are the primary currency of McLuck Casino.
As soon as you sign up, you will receive a balance of 7,500 GC, along with 1,500 GC that you can claim every day simply for logging into your account.
If you want even more GC to play with, you can purchase them for real cash in the operator's coin store at the following rates:
$1.99 – 4,000 Gold Coins
$4.99 – 10,000 Gold Coins
$9.99 – 50,000 Gold Coins (1st Purchase Only)
$19.99 – 40,000 Gold Coins
$49.99 – 100,000 Gold Coins
$74.99 – 200,000 Gold Coins (VIP Offer)
$99.99 – 200,000 Gold Coins
Playing the Games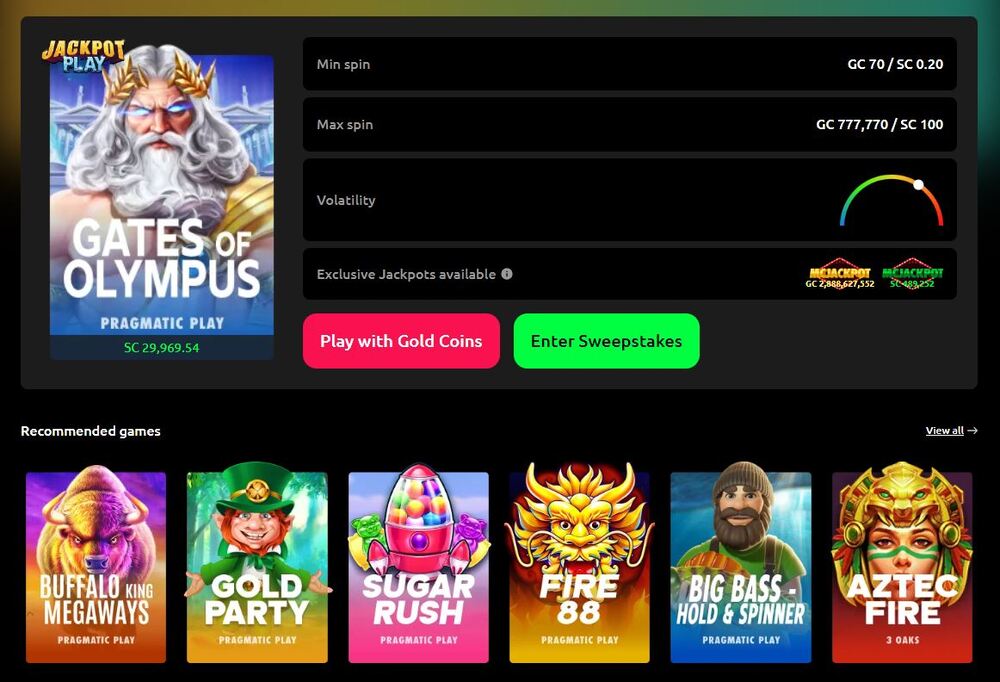 As soon as you register for a McLuck Casino account, you can play each of the 400+ games available at the casino with both your GC and your SC.
Switching between the two modes is fast and seamless, and both modes offer a full portfolio of casino games.
To start playing, pick any of the hundreds of popular slot games from software developers like NetEnt, Pragmatic Play, or IGT, and then select if you want to play it for Gold Coins or SC.
Redeeming SC for Cash Prizes
As previously mentioned, accumulating Sweepstakes Coins will allow you to redeem them for real money prizes or gift cards.
As soon as you accumulate 10 SCs, you will be able to redeem them for gift cards, with $1 of value available for every 1 SC you have in your balance.
If you prefer to redeem your SC for cash prizes, you will need to accumulate a minimum of 75 SC, and you will be able to redeem these SC for cash, paid into your bank account, at the same rate of $1 for 1 SC.
Simply click the Redeem button once logged into your McLuck Casino account, and you will be shown the available options for SC redemption on the popup screen.
McLuck Casino Mobile App
McLuck Casino is a modern social casino platform, so it is no surprise that it is fully compatible with mobile devices.
However, you will not find any McLuck Casino mobile app for download in either the App Store or Google Play. Instead, mobile play is offered through an instant play platform available in mobile internet browsers.
The casino is fully optimized for mobile users, with practically all the games and site functionalities available to mobile users at full capacity, making mobile use easy and smooth on any device of your choice.
⭐ McLuck Casino App for iOS
If you own an iPhone or iPad, you can play at McLuck Casino on your mobile device without any complications.
You will not be required to download any McLuck Casino mobile app to your device to get started, but rather simply open your internet browser, navigate to McLuck Casino, and get in the action.
If you are already registered with McLuck Casino, you can use your existing login details to play on your iPhone and save those details for further mobile logins.
⭐ McLuck Casino App for Android
Android users can also enjoy McLuck Casino in full, as all games and the platform itself are optimized for this popular mobile operating system.
If you own a Samsung mobile phone or any other mobile device that runs on Android, you can load up the operator's website in your internet browser and immediately gain full access to the platform.
Remember that you don't need to download any McLuck Casino app from Google Play, and looking for one there will yield no results at this time.
McLuck Online Casino Games
While many social casinos offer fewer than a hundred games, McLuck Casino has a much more extensive portfolio of games to work with.
In fact, McLuck Casino can go hand-in-hand with top real money casinos as well, offering more than 400 unique games to pick from.
Among these, you will find some of the most popular and up-to-date slots from the likes of NetEnt, Pragmatic Play, IGT, and other studios.
McLuck Casino Slots
Casino is fully focused on online slots and has many different slot types in its library. Among video slot machines available at McLuck Casino, you will find Megaways slots, Hold and Win slots, Cascading slots, Bonus slots, and other types of games.
All of these games come with the same basic principle, but a variety of gameplay features and options make each slot type unique in its own way.
All slots on the platform are created by major software studios, meaning you can play all the most popular slot titles on this social casino platform.
Some of the most popular slots include:
Gates of Olympus
Buffalo Power: Hold and Win
Sugar Rush
Big Bas Splash
Elvis Frog Trueways
Gonzo's Quest
TNT Tumble
Buster's Bones
The variety of slot games available at McLuck Casino is impressive even compared to many real money casino platforms, and slots players will be very happy with the selection on offer.
McLuck Casino Jackpot Slots
Another amazing thing about McLuck Casino slots is that every slot game on the platform is a jackpot game, as all games are automatically entered into the great competition that offers four levels of progressive jackpots.
By spinning the reels of any of the slot machines at McLuck Casino, you will have a chance to compete for the following jackpots:
Grand Jackpot: 200,000,000 Gold Coins
Major: 2,000,000 Gold Coins
Minor: 200,000 Gold Coins
Mini: 10,000 Gold Coins
As the jackpot gets bigger, the probability of winning it also becomes lower, but you will be in play for each of them anytime you play GC games at McLuck Casino.
McLuck Casino Table Games
While the selection of slots at McLuck Casino is quite impressive, and the overall number of games is huge, the operator does not offer any table games to speak of.
Whether you are looking to play virtual casino table games or ones with live dealers, you will not find any on this platform, so make sure to check Pulsz Casino if table games are your only interest.
💳 McLuck Casino Payment Methods & Limits
While we have already said this, it is important to reiterate that McLuck Casino is not a real money casino, which means you cannot deposit real money into your balance or earn any cash winnings.
However, the platform allows you to purchase Gold Coins. You can use:
Credit or debit card or make a direct wire transfer to make such a purchase.
Take advantage of Apple Pay and Google Pay options.
Once you purchase your Gold Coins, you will also receive a number of free Sweepstakes Coins as a bonus, and playing with Sweepstakes Coins can lead to your SC balance growing exponentially.
As you earn more SC, you will be able to redeem them for cash prizes. When you request to redeem your coins, you will have to enter your banking account numbers and receive the cash prize via a wire transfer.
At this time, various forms of digital payments or e-wallets are not accepted at McLuck Casino, although the selection of payment methods might expand in the future.
McLuck Casino User Experience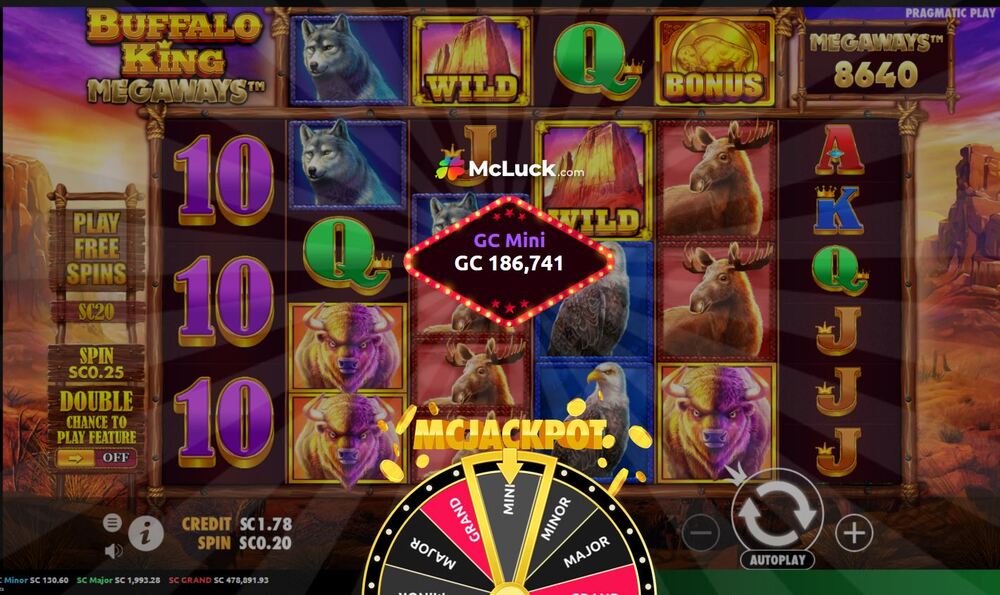 McLuck Casino was only launched in 2023 but has already established itself as one of the top operators of its type.
The casino has a library of more than 400 unique video slot titles, making it one of the most comprehensive sites, although the lack of other game types can be seen as a downside.
The platform is available on both desktop and mobile devices, and with a variety of bonuses and promotions available to the players, it is easily one of the most exciting social casinos to play at.
Offering cash prizes for lucky SC winners and plenty of massive GC jackpots across all games, McLuck Casino stands to become one of the top social casino sites in the world over the coming years.
Customer Support
McLuck Casino offers more than most competitors and even many real money casino sites regarding customer support.
Email support, as well as telephone support, are available to players from the US around the clock.
What's even more, you can access live chat support directly on the website and get a quick response and solution to any issues you may be experiencing.
Finally, McLuck Casino is available across social media platforms like Twitter, Facebook, and Instagram, and sending a message on any of these platforms will also get you a timely response from the operator's agents.
Fair Play
The question of fair play is one that does not get brought up too much with social casinos but that McLuck Casino takes quite seriously.
While McLuck Casino is not licensed for real money gaming, it does feature casino games from some of the world's leading software developers, all of which undergo the strictest of audits in terms of randomness and fairness.
The games you will find at McLuck Casino are developed to be fair, unbiased, and random at all times, and all outcomes and results, whether you wager GC or SC, are completely random.
Security
McLuck does not allow players to deposit real money as a social casino, so the risk of getting your cash stolen or hacked is not an issue.
On the other hand, you will still be sharing your banking information during GC purchases, but the operator uses SSL certificates and encryptions to ensure any such transactions are secure and completely private.
McLuck Casino has not been reported by many users for security issues or breaches and is considered one of the most secure social casino platforms out there.
Is McLuck Casino Safe to Play At?
As already discussed, McLuck Casino is a legit site and very safe to play at in terms of keeping your private and banking information safe and secure.
When it comes to legality, it is important to note that there is nothing illegal about playing at McLuck Casino, as long as you don't try to play from the states that are not allowed on the platform.
Players from all accepted states can play for both GC and SC and redeem their Sweepstakes Coins for cash prizes, fully within the law and in compliance with the rules and regulations relating to sweepstakes games and casinos.
McLuck Casino Available States
As previously mentioned, McLuck Casino is available in the vast majority of states, with only Alabama, Kentucky, Georgia, Idaho, Nevada, and Washington currently banned from the platform.
Players from all other states and players from the EU and the UK are welcome to sign up and play at McLuck Casino at all times.
If you live in one of the banned states, don't try to create an account using a VPN or other methods, but simply avoid playing at this social casino platform until the operator notifies you that your state was added to the list of accepted territories.
McLuck Casino App – Why You Should Try It
Only launched in 2023, McLuck Casino has quickly built up its game portfolio and reputation and become one of the premier social casino sites in the US.
McLuck offers a valuable welcome bonus, plenty of free daily gifts, referral rewards, and regular promotions, all adding value to any purchases.
McLuck Casino will never force you to pay anything and will give you plenty of opportunities to play more than 400 casino games for free every day, with no strings attached.
At the end of the day, the operator allows you to win Sweepstakes Coins, which can be redeemed for real cash prizes without any risk or purchase necessary.
If you like what you see, head on over to McLuck Casino, sign up for a free player account, and receive your welcome bonus of 7,500 GC and 2.5 SC, no purchase required!
McLuck Casino FAQ