Pulsz Casino – Get Your Free Sign-Up Bonus & Try The Best Games!
24 minutes
Last Updated: August 25, 2023
Operating in 47 American states and offering more than 500 unique casino games, Pulsz Casino is one of the top social casino sites in the world.
Pulsz.com offers a great alternative to real-money casinos with a chance to play amazing casino-style games, compete in tournaments, and redeem your Sweepstakes Coins for cash prizes.
In this Pulsz Casino review, we will look to explain all the mechanics of a social casino and explore the platform from the bottom up, looking into every aspect of its operation. Keep reading to find out why you should join Pulsz Casino and what perks await you when you sign up for this site.  
1

Up to 367,000 Gold Coins +

Free 32.3 SC
Why Play at Pulsz Casino
Are you wondering why you should play at Pulsz Casino? Here are the main pros and cons of choosing Pulsz as your platform of choice:
✔️ Pulsz Casino Pros
Legal in 47 of 50 states
Over 500 exciting casino games
Welcome offer and regular promotions
Get free SC with every GC purchase
Mobile app available for all devices
Valuable recurring promotions
🔴 Pulsz Casino Cons
No live chat option
No live casino games
No third-party RNG certification
Pulsz Casino Bonuses – Promo Code & More

If you are new to Pulsz Casino, you may wonder how to get involved, start playing on the platform, and purchase your first Gold Coins.
Fortunately, you will not need to worry about this too much, as all new players receive a starting balance of 5,000 GC and 2.3 SC without making a purchase.
This way, you can try Pulsz Casino without even making a purchase and jump right in and try some games with both currencies.
Players who opt to make a purchase can do so using their credit cards or Skrill balances, with a welcome bonus worth up to 362,000 GC and 30 SC available to all new depositors.
So, let's get started and find out how you can get your welcome offer and what exactly it entails.
Pulsz Casino Welcome Bonus
New players who join Pulsz Casino are eligible for a welcome offer, which includes more GC and SC than you would get on subsequent purchases.
You can choose between the following welcome offers at Pulsz Casino:
$9.99 – Purchase 173,500 GC and Receive 15 SC, 110 VIP Points, and 1 Gold Key. Play here.
$19.99 – Purchase 362,000 GC and Receive 30 SC, 460 VIP Points, and 1 Gold Key. Play here.
You will notice that buying Gold Coins with the welcome offer will add additional Sweepstakes Coins to your balance as a reward for joining and making your first purchase.
Playing with Sweepstakes Coins will make you eligible for Sweepstakes rewards, which become available once you have accumulated 100 SC in your balance.
The welcome offer will also include a Gold Key, which you can use to unlock exclusive games for a period of one week. Making further purchases will award you with more Gold Keys.
Pulsz Casino VIP Rewards
All players at Pulsz Casino are automatically entered into the Pulsz Casino VIP Loyalty Rewards program, which keeps giving as you advance through the levels.
There are six VIP levels at Pulsz Casino, and advancing through them will get you more Gold Coins with your purchases and allow you to progress even faster through subsequent levels.
Making GC purchases will award you with VIP Points, which allow you to advance through the levels and reach a higher GC multiplier, as follows:
| | | |
| --- | --- | --- |
| Level: | Gold Coins Multiplier | VIP Points Multiplier |
| Bronze | 1x | 1x |
| Silver | 1.25x | 2x |
| Gold | 1.5x | 3x |
| Platinum | 1.75x | 4x |
| Diamond | 2x | 5x |
| Royal Diamond | 2.25x | 6x |
Reaching the higher echelons of the VIP program will allow you to get more GC with each purchase, meaning you can play the games at higher stakes and have even more fun with the same purchase.
Pulsz Casino Tournaments
Pulsz Casino organizes regular tournaments, allowing you to compete for Gold Coins and free Sweepstakes Coins while playing the games.
On various days of the week, Pulsz Casino throws tournaments at both GC and SC games, with players who reach the top of the leaderboards awarded prizes in both currencies.
Promotions such as Golden Summer Giveaway and Fever Pitch Tournaments are just a few of those that include casino tournaments and offer thousands of coins in free prizes.
Can You Win Real Prizes at Pulsz Casino?
As we already mentioned, Pulsz Casino is a social casino, which means real money play is not allowed on the platform.
However, every time you purchase Gold Coins, Pulsz will award you with a small amount of free Sweepstakes Coins, which you can use to play games and earn even more SC.
As you accumulate more SC in your balance, you can redeem them for cash prizes or gift cards by clicking the redeem button.
As soon as you reach 10 SC in your balance, you will be able to redeem them for gift cards, while reaching 100 SC will also give you a chance to redeem your SC for cash prizes.
So, while you cannot play for real money at Pulsz Casino, you can play SC games and redeem the SC you win for cash prizes paid directly into your balance.
Pulsz.com Casino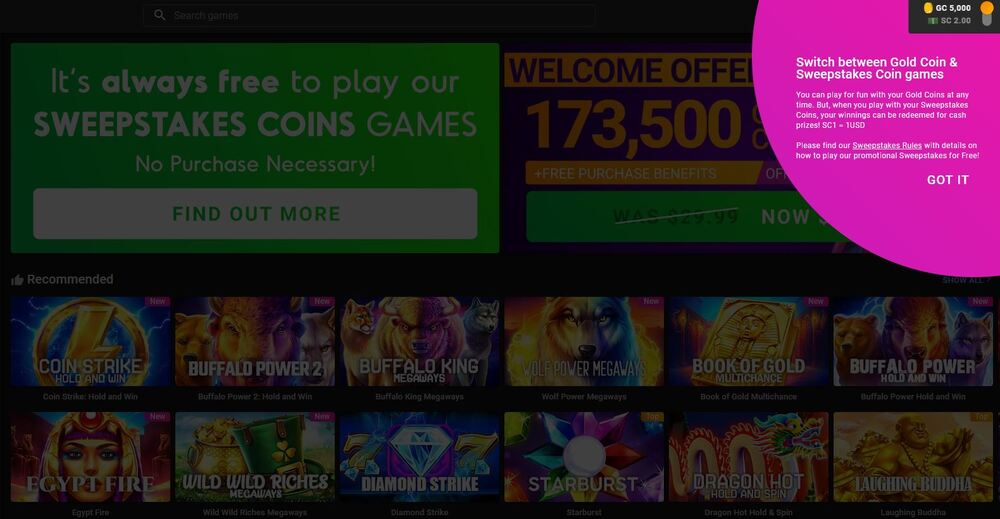 Pulsz Casino is one of the most popular social casinos, accepting players from most US states, many of whom cannot play at any real money online casinos.
Due to the ban on real money gambling in most states, Pulsz Casino offers the best alternative for fans of casino games, who can enjoy plenty of exciting games on the platform and the full scope of a casino-style gameplay environment.
What is a Social Casino & How Does It Work?
Social casinos have been around for many years now, and they have been providing players in regions where legal real-money gambling is not available with a source of entertainment and the perfect pastime.
Unlike real money casinos, social casinos do not accept real money deposits and do not offer real money play, which means there are no legal considerations to keep in mind when playing there.
Players can play with the coins they receive from the operator or purchase on the platform and win those coins in return without any cash changing hands.
That said, Pulsz Casino, just like McLuck Casino and other social casinos, does offer real cash rewards for players who accumulate high Sweepstakes Coins balances.
Like real money casinos, social casinos offer many different games to choose from, with Pulsz being one of the best in the market, offering more than 500 unique casino game titles.
Pulsz Casino Gold Coins
The main currency at Pulsz Casino is called Gold Coins (GC), and this is the only currency you can purchase for real money at Pulsz.com. Making real money GC purchases increases your VIP status and allows you to play all the games on the platform for GC.
In these games, you can only win Gold Coin prizes, which you can use to play even more games for even higher GC stakes.
It is important to note that playing casino games with GC is not equivalent to real money gambling but rather just entertainment with no possibility of a monetary win or loss.
Pulsz Casino Sweepstakes Coins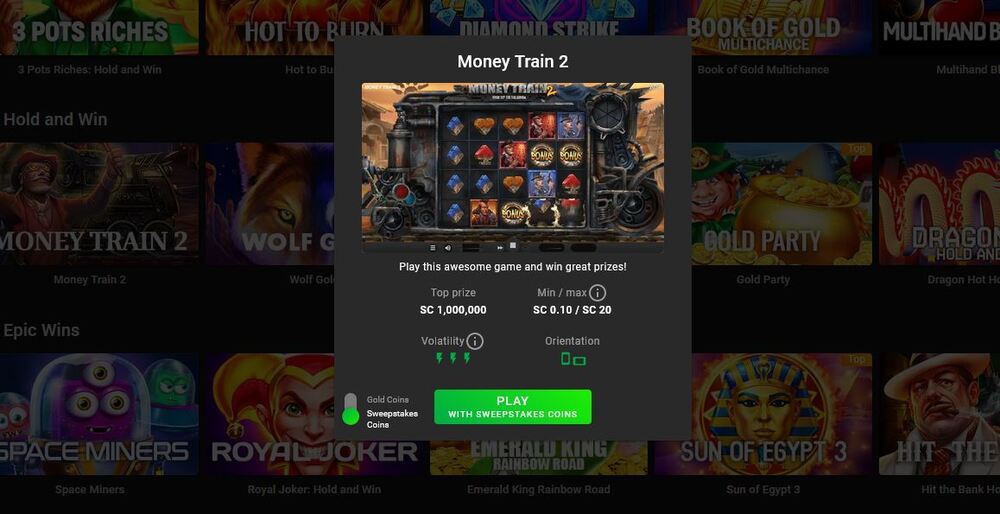 Each time you make a Gold Coins purchase, Pulsz will reward you with a small number of free Sweepstakes Coins, which can be used to play the same games in different currencies.
While SC cannot be directly bought and are not real money, they can be redeemed for cash prizes or gift cards in the operator's store. For this reason, playing with SC can be both fun and lucrative, as lucky winners can redeem their coins for cash prizes.
Pulsz SC Redemption for Cash
The ability to redeem SC for real cash is one of the most appealing segments of playing at a social casino like Pulsz for many players. As your SC balance increases when you play SC casino games, you will get into a position to redeem the coins for real cash.
You can start redeeming gift cards as soon as you have 10 SC in your balance, while redeeming real cash prizes starts when you have 100 SC or more.
In either case, SC are redeemed for real cash at a rate of 1SC for 1$, and you can complete your redemption anytime you have a balance that's high enough.
Pulsz Casino Free SC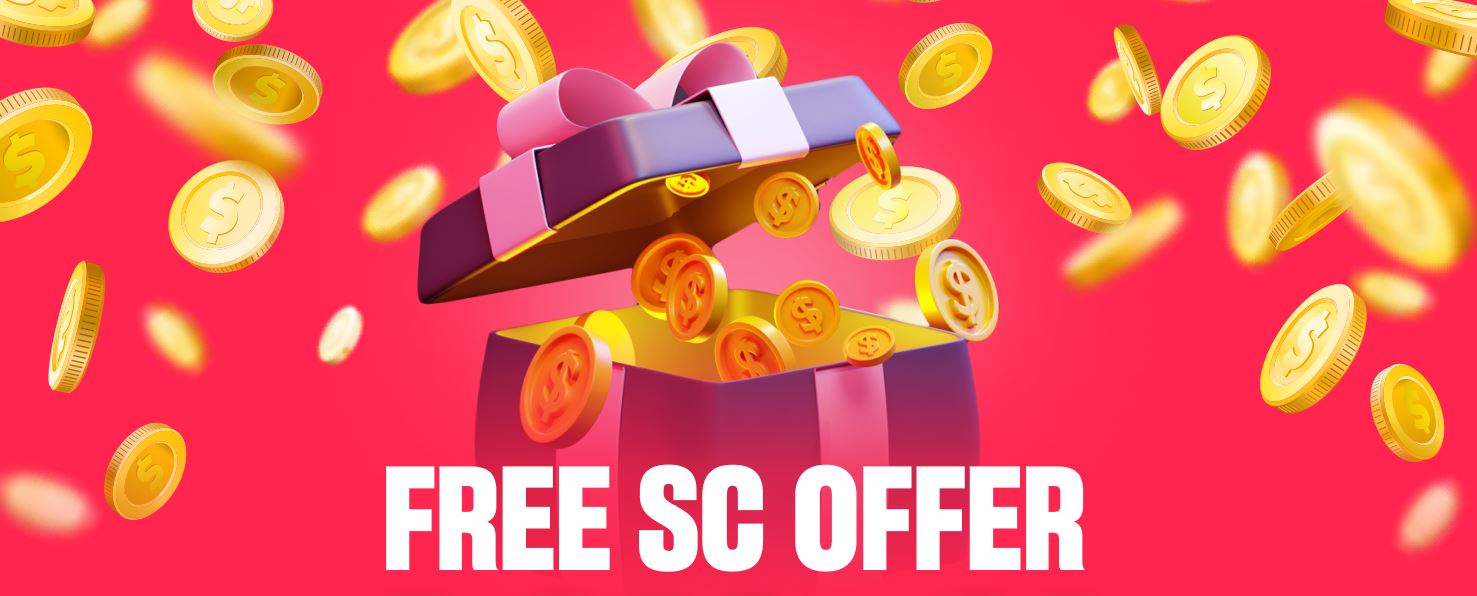 We already mentioned that there is no way to purchase Sweepstakes Coins at Pulsz Casino, as these coins are always earned or rewarded separately.
So, if you are wondering how to get your hands on some free SC, here are the top methods you can use to increase your SC balance at Pulsz Casino:
Pulsz Free SC with No Purchase
The moment you join Pulsz online casino, you will notice that you already have a running balance of both GC and SC.
The operator will award you with 2.3 Pulsz free SC for simply registering an account, and more SC will become available as you play on the site.
The initial bonus of 2.3 free SC is available to everyone without a Pulsz promo code or any other tricks.
Pulsz Casino Purchase Bonus
The free SC you get on registration is there to get you started, but you can get even more SC by getting involved with the site and purchasing Gold Coins in the store.
The more Gold Coins you purchase, the more free SC Pulsz Casino will reward you. You can make the following purchases to get some extra SC as a reward:
$4.99 – Purchase 79,500 GC – Get 5 SC Free
$9.99 – Purchase 173,500 GC – Get 15 SC Free (First Purchase Only)
$19.99 – Purchase 362,000 GC – Get 30 SC Free (First Purchase Only)
$49.99 – Purchase 904,500 GC – Get 50 SC Free
$99.99 – Purchase 1,884,000 GC – Get 100 SC Free
Purchasing Gold Coins is the best and fastest way to get free SC on the side, allowing you to play more games in both currencies and enjoy the casino to the fullest.
Pulsz Free Sweepstakes for Daily Logins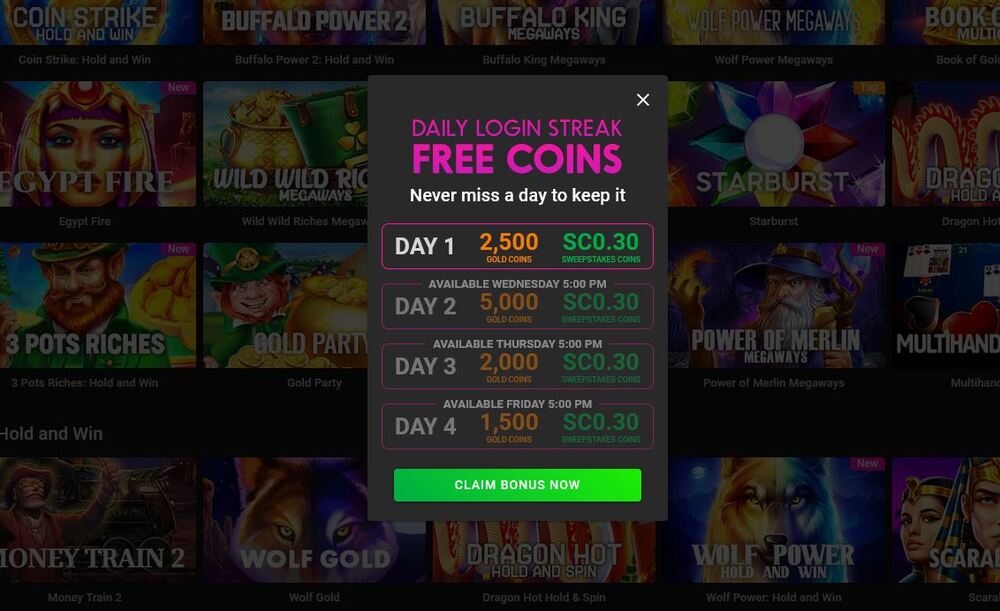 On top of the free 2.3 SC you get when you sign up with Pulsz, you can also receive 0.3 free SC every single day simply for logging into your account.
Even if you have never made a GC purchase on the site, you will get your 0.3 daily free SC bonus if you log into your account.
Make sure to visit the Pulsz online casino just once a day, and your SC balance will grow slowly but surely.
How to Earn Free Sweepstakes Coins
We have already listed a few ways to grow your SC balance at Pulsz Casino, but if you are looking for even more Pulsz free Sweepstakes Coins, here are a few more ways to get them.
First of all, make sure to follow the casino on all social media platforms, where you can often find competitions and events during which free SC are awarded to a number of players.
Furthermore, you can get up to 20 SC for every friend you get to join Pulsz Casino and purchase at least $15 worth of GC, and you can do this up to 10 times for a total of 200 free Pulsz Sweepstakes Coins.
Finally, plenty of promotions and tournaments run regularly, allowing you to win extra SC while playing various SC games on the platform.
Registering and Playing at Pulsz Casino
So, now that you understand how Pulsz online casino works and how you can build up your GC and SC balances, let's look at the process of registration and playing at the casino.
Creating Account
Creating a Pulsz.com Casino account is very simple and takes no longer than a few minutes as long as you are eligible for an account.
Players from 47 states are accepted at Pulsz Casino, with those from Nevada, Washington, and Idaho not allowed to play here, along with players from outside the US.
If you are looking to play from one of the remaining states, you can sign up by creating a unique username and password or using your Facebook or Google account to quickly set up a Pulsz Casino account.
In either case, you can register an account and start playing after providing only some basic personal information, which does not include things like your SSN or other highly sensitive information.
Pulsz Casino Login
Once you have created your account, you can proceed with your first Pulsz Casino login, which will require you to enter the login information you provided during the registration process.
After your first Pulsz Casino login, you will be able to save your info and remain logged in on your device, so you don't need to type in your details every time you wish to play.
You can use the same information for a Pulsz Casino login on your other devices, such as a mobile phone or tablet, along with your main device.
Getting Free Sweepstakes Coins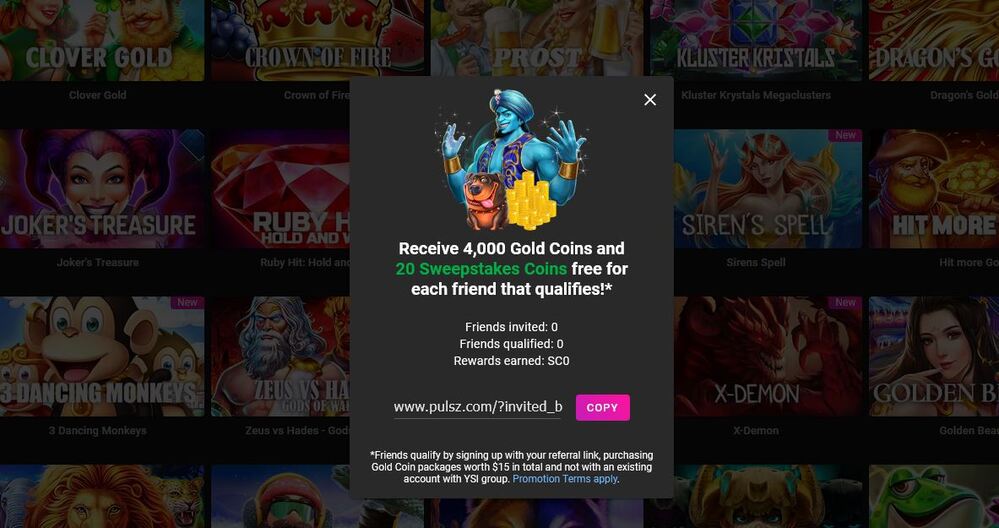 Once you are logged into your Pulsz Casino account, you will notice that there is an option to purchase gold coins but not one to purchase Sweepstakes Coins.
This is because the casino awards all Sweepstakes Coins to the players as an extra reward for purchasing Gold Coins.
On top of that, as we mentioned before, you can get Pulsz free coins in some of the following ways:
Get 2 free SC for signing up with Pulsz
Get 0.3 free SC for logging into your account daily
Get 20 free SC for signing up a friend who purchases $15 of GC
Get more free SC from social media contests
Get more free SC from various SC promotions
Pulsz Casino Coins Purchase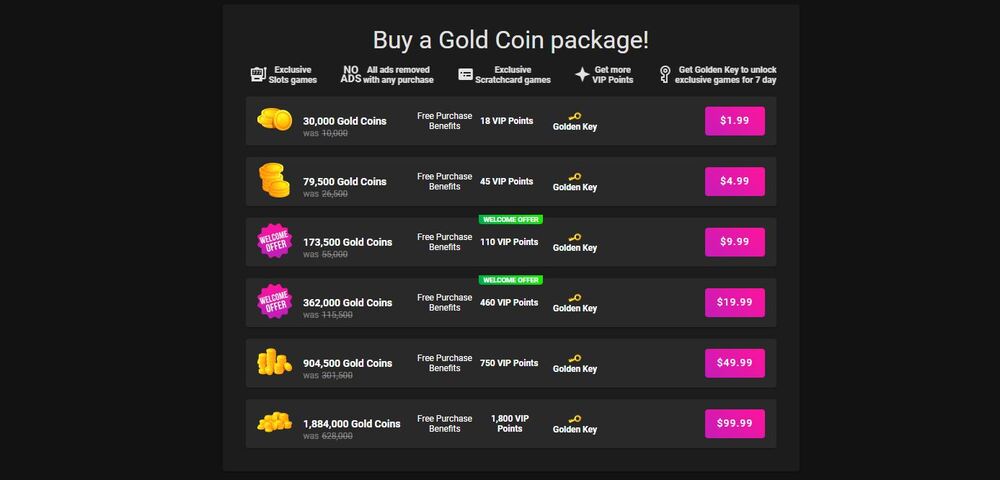 Unlike Sweepstakes Coins, Gold Coins are up for sale, and you can purchase as many of them as you want, with purchases of up to GC 1,844,000 at a time available for up to $99.99.
Of course, you can make any number of purchases and keep increasing your balance if you choose to, and you will also get GC purchase multipliers as you move up the VIP ranks.
Note that you will also receive a number of Pulsz free Sweepstakes Coins every time you make a GC purchase, which is an extra perk of making purchases and paying for GC at Pulsz.
Playing the Games
Once you have set up your GC and SC balances, you can play any 500+ games available at Pulsz Casino.
The games include both Pulsz slots and other casino games, such as Blackjack and Texas Hold'em Poker, although the majority of all games on the platform are slot games.
Before you pick a game, you can switch between GC and SC mode, which determines which currency you will be playing with once the game launches.
As you play on Pulsz Casino, you will be able to try any number of games, move up and down the stakes, and enjoy playing at your own pace with few restrictions.
Redeeming Your Prizes
A very fun part about playing at Pulsz Casino is that you get to redeem the Sweepstakes Coins you accumulate for cash prizes once you have enough of them.
We have already listed all the various ways you can acquire SC, so all that's left is to explain how you can redeem them.
As soon as you have 10 SC in your balance, you will be able to click Redeem, and you will be able to redeem your SC for gift cards.
Once you reach 100 SC, you can redeem your SC for real cash at a rate of 1 SC for $1, and the rewards will be sent to your Skrill account.
Redeeming Sweepstakes Coins at Pulsz is fast and easy, and you can do so at any point when you have a balance that's high enough.
Pulsz Casino Mobile App
Pulsz Casino is fully optimized for mobile play, and you can simply log into your account via any mobile internet browser and start playing immediately.
However, if you want maximum performance and speed, downloading the Pulsz Casino app to your device might be a good idea, and it won't take more than a few minutes to set it all up.
⭐ Pulsz Casino App for Android
While many casino apps are not available in the Google Play Store, Pulsz Casino is a social casino, which means there are no restrictions on such an app being available for direct download.
You can download the Pulsz app for your Android-powered device directly from the site and from the Play Store and easily install it on your phone or tablet for instant access.
The full library of casino games, along with all other functionalities of Pulsz Casino, are available in the Android app, which means you can get the full experience while playing through the app, with no missing parts.
⭐ Pulsz Casino App for iOS
Like Android users, iOS users can find the Pulsz Casino app available in the App Store and on the operator's website.
The app is compatible with all iPhones and iPads, giving you full access to the plethora of functions and games available at Pulsz.com.
Once you have installed the Pulsz app on your iPhone or iPad, you can perform a Pulsz Casino login with your existing data, keep the account logged in for future play, and instantly access your favorite social casino in seconds.
Pulsz Online Casino Games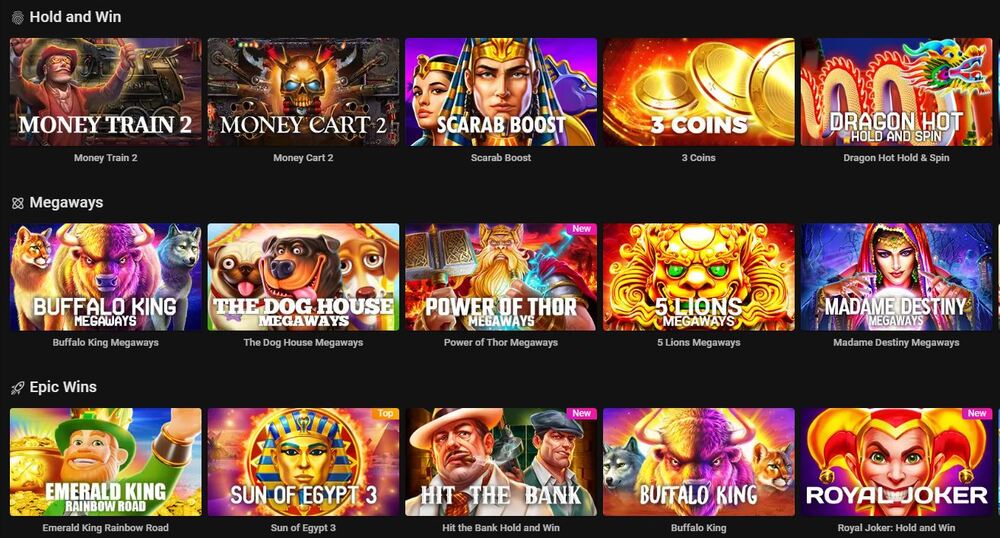 The thing that makes Pulsz Casino really stand out in the social casino market is the fact it offers up to five times more games than most of its competitors.
While so many social casinos only offer 100 games or less, Pulsz Casino has a massive library of games, with more than 500 unique titles on the list.
The diversity of games is incredible, and although most games fall into the slots category, they come with various gameplay features, bonuses, and jackpots that make every game unique and worth playing.
Pulsz Casino Slots
Out of all the games at Pulsz Casino, only a few don't fall into the online slots category, while all others are video slot games.
The incredible variety of casino games, developed by some of the leading software developers in the industry, makes Pulsz Casino the best place to play slots socially.
Not only is the list of Pulsz slots more extensive than those found at other social casinos, but the site also features many all-time favorites that are not featured on any other social site.
Some top games at Pulsz include Aloha Cluster Pays, Wolf Gold, Big Bass Bonanza, Big Juan, Heist of the Golden Nuggets, Panda Fortune 2, and many others.
Pulsz Casino remains the number one place for slot players in terms of variety and quality, as you will find the best video slots ever developed on the platform.
Pulsz Casino Jackpot Slots
We already mentioned that Pulsz slots feature many different gameplay modes and rewarding bonuses, and quite a few of them come with a massive jackpot you can win.
Games like Happy Ape, Lantern Luck, Sparta, and about two dozen others all feature a jackpot that can be won in-game, whether you are playing with GC or SC.
These jackpot games are quite unique, and they make every spin a real thrill, as there is no telling when the jackpot will strike and reward you win an eye-watering sum of coins.
If you like the thrill of chasing after jackpots, Pulsz Casino is the one social casino where you won't have any trouble finding the right game.
Pulsz Casino Table Games
Table games are a weak point of Pulsz Casino, as the operator only offers two titles in Multihand Blackjack and Texas Hold'em Poker.
While both games are extremely fun to play, the lack of classic casino games like Roulette, Baccarat, Craps, or Video Poker is a bit of a downside for players who enjoy playing at the tables.
What's more, Pulsz Casino does not feature any live dealer games either, making the platform much better for slot lovers than players who enjoy card games and other traditional casino titles.
Yet, if you are playing at Pulsz Casino, we highly recommend checking out their Blackjack and Poker games, as both are exciting and offer high returns compared to most slots.
💳 Pulsz Casino Payment Methods and Limits
As you join Pulsz Casino, you will quickly realize that the casino offers you a chance to purchase Gold Coins, which we have already discussed in this Pulsz Casino review.
To purchase these GCs, you will need to pay with real money, and at this time, you will only be able to pay for these using a credit card.
All transactions made at Pulsz are highly secure and protected like any other purchase you might make online, so there is no fear of using a credit card to buy Gold Coins.
Instant Purchases
All GC purchases at Pulsz Casino are instant, meaning you will receive the full amount of Coins into your balance when your transaction is processed.
Along with your Gold Coins, the casino will also award you with a small balance of free Sweepstakes Coins on every purchase, which will also become available instantly.
You can purchase Gold Coins worth up to $99.99 in a single purchase, giving you close to 2,000,000 GC at the Bronze VIP level and almost 12,000,000 GC as you reach the top echelon of the VIP program.
If you happen to not receive your Coins immediately after the purchase, make sure to contact the customer support department, and they will be happy to fix it for you or explain why your card may have been declined.
Redeeming Your SC
Once you are ready to redeem your SC for cash prizes, you can do so by clicking the Redeem button and following the simple instructions.
If you have a balance of 100 SC or more, you will be able to redeem these SC for cash rewards at a rate of $1 per 1 SC.
You can request the rewards into your Skrill account or your bank account, and Pulsz will make sure to send them your way promptly.
Pulsz.com User Experience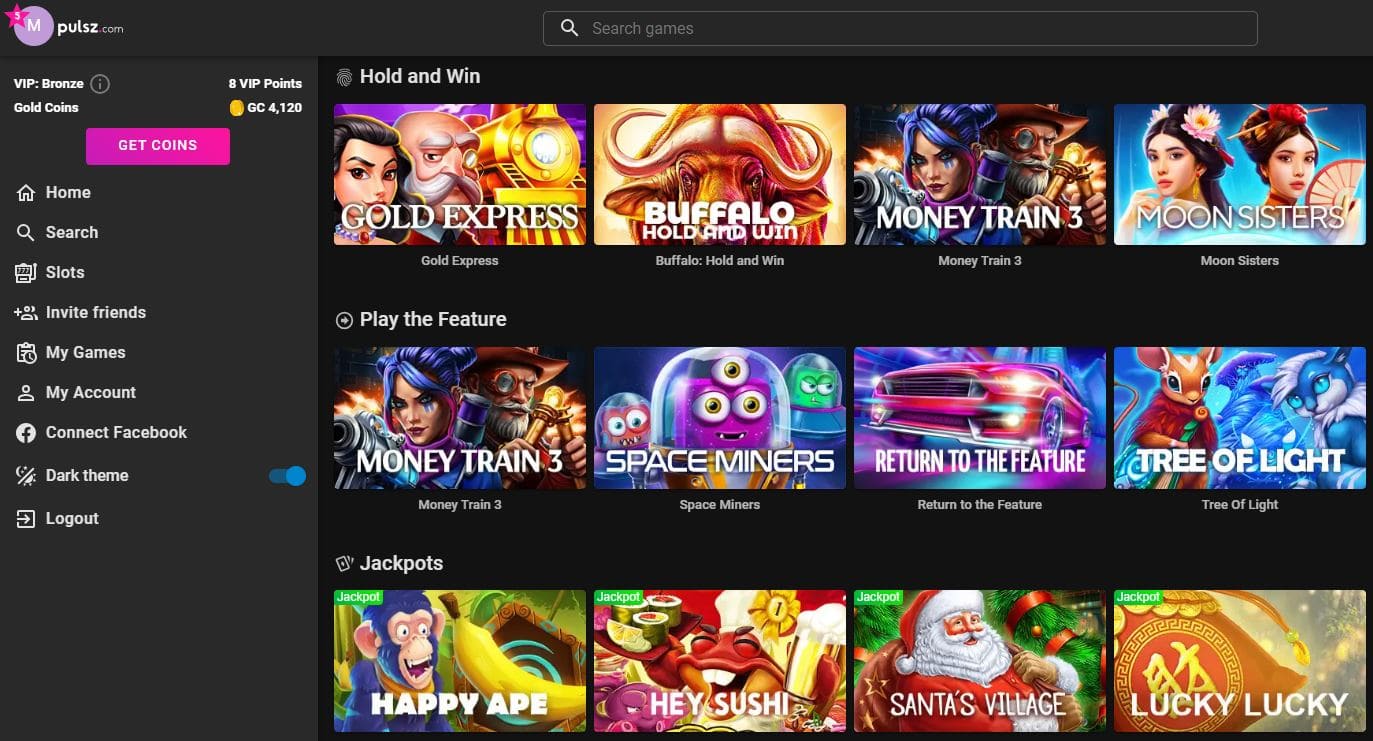 At this time, Pulsz online casino is easily one of the best social casinos, featuring over 500 casino games, an easily navigable platform, and plenty of bonuses and promotions to make gameplay more engaging and rewarding.
Pulsz promises a satisfying experience in every way, allowing players to join for free and play for free while enjoying some of the best casino games in the world.
Now, let's look at some of the technical aspects of playing a Pulsz Casino that many players might not even consider at first.
Customer Support
Customer support is one area that social casino players often don't consider when signing up, but one that certainly makes a difference.
Unfortunately, Pulsz Casino does not feature a live chat option, which means instant access to a support agent is not possible.
Instead, you will need to send an email to Pulsz, and you can expect an answer within a day or two, but the truth is that getting answers from the support department can be slow at times.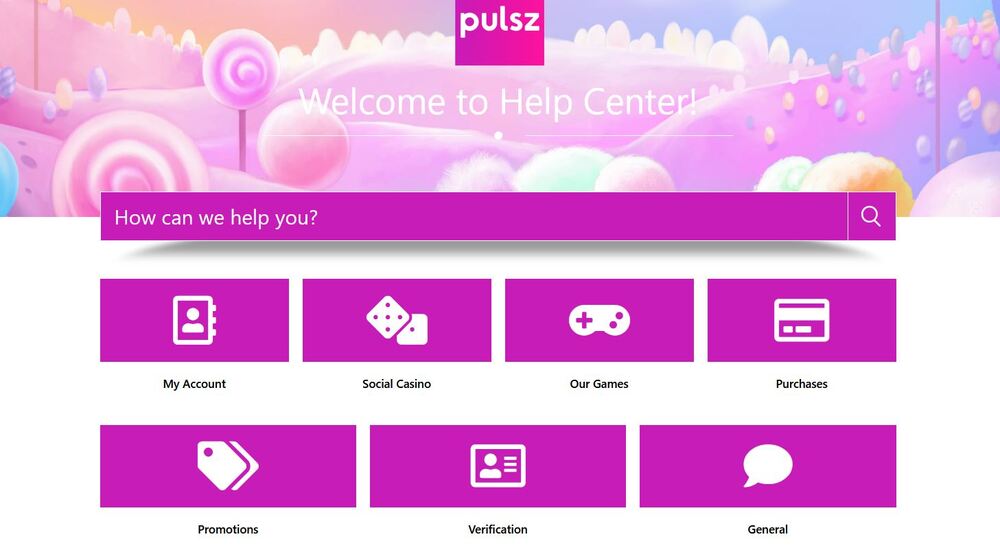 Fortunately, the platform itself is very stable and with few glitches, and most players will not need too much help, as everything at the casino is automated and works to near perfection most of the time.
If you need something, you always have the option to call them on the phone and clear it out at once, which is a nice finishing touch to have instead of live support.
Fair Play
While Pulsz Casino is a social casino without real money play, it is understandable that players still care about fair play and whether or not the games on the platform are fully random.
The casino does not display any third-party certification of its random number generator, which means there is no solid proof that the games at Pulsz are 100% random.
Yet, the titles you will get to play were developed by some of the leading software studios in the iGaming world, and they are designed to be random and offer fair outcomes to all.
To date, there has been no concrete evidence of any games at Pulsz being unfair or not random, and the casino ranks very highly among thousands of players who have played there and publically reviewed the site.
Security
Compared to most traditional casinos, Pulsz Casino does not offer the high-security standards that come into play with real money play, but that is for understandable reasons.
Players do not have real money balances at Pulsz, so there is no reason to protect the accounts at a level typical casinos must consider.
However, the casino does offer all the standard protections that come into play with e-commerce, which means that all your credit card purchases will be safe, and your user data will be held privately and on secure servers.
Differences Between Pulsz Casino and a Real Money Site
It is very important to remember that, despite any similarities it may have with real money casinos, Pulsz Casino is a sweepstakes casino platform designed for sheer entertainment.
Pulsz Casino offers many of the same games you may find on quite a few real money casinos, but it does not offer these games in real money mode.
Pulsz does not allow for real money deposits or withdrawals, nor does it allow for real money play in any of its games.
Instead, all gameplay at Pulsz Casino is strictly social in nature, with Gold Coins and Sweepstakes Coins being the only currencies accepted by the game.
Why Play at a Social Casino?
Social casinos are different from real money casinos in many regards, one of them being the fact that they are legal in most US states.
Nevada, Idaho, and Washington are the only three states that don't allow play at Pulsz, while players from all other states are welcome at Pulsz.com.
With players in most states not allowed to play at any real money casinos, Pulsz and other social casinos offer a great substitute.
Pulsz does not require real money deposits for play but does offer a chance to win SC and redeem them for valuable cash prizes to the lucky Sweepstakes winners.
All of this makes the concept of a social casino incredibly exciting, along with the opportunity to play with your friends, win massive GC jackpots, and enjoy some of the newest and best games in the casino industry.
Is Pulsz Casino Safe to Play at?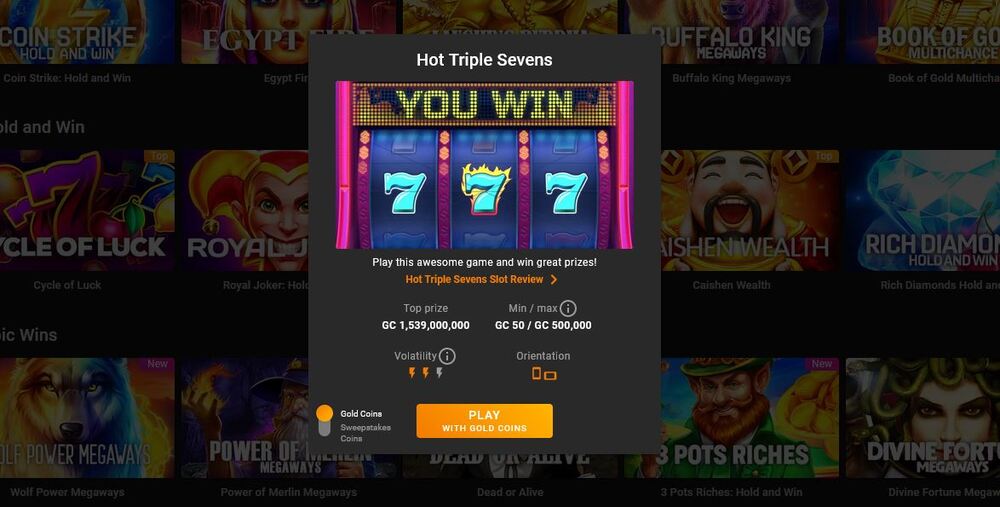 The question of security and safety comes up a lot with social casinos, as players sometimes fear for their safety playing at what is, technically, an unregulated casino.
However, Pulsz Casino is actually very safe to play at, as it does not offer real money play, and all games on the platform are designed by leading software developers.
All things considered, including the history of Pulsz, the site seems safer to play at than most real money options available to international players.
Pulsz Casino Available States
At this time, Pulsz Casino is available in 47 out of the 50 states, with only Washington, Nevada, and Idaho banning social casinos.
For that reason, Pulsz does not allow players from these states to join, while all other American players are welcome to create an account, receive their welcome bonus, and enjoy the full scope of the platform.
Pulsz Casino App – Why You Should Try It
Pulsz Casino is the most comprehensive social casino out there, and it is completely free to play. You can download the Pulsz app or play it in your browser within minutes.
The casino offers more than 500 unique games, many of them popular slots by the world's leading developers, and gives away valuable GC and SC bonuses daily.
With an opportunity to redeem any SC you may win for real cash prizes and play so many of the most exciting casino games for free, Pulsz Casino is an easy pick for any casino lover.
If you are looking for a legal and fun casino platform to play at, Pulsz Casino should easily be your number one choice, and you can sign up for a new account today, absolutely free!
Pulsz Casino FAQs