NoLimitCoins Casino – Get 1,050,000 GC + 3,999 FREE SC With Your First Purchase
20 minutes
Last Updated: September 11, 2023
Part of the A1 Development LLC family of social casino sites, NoLimitCoins Casino was founded in 2021 and has since provided services to players from all parts of the US except Washington, Wyoming, and Idaho.
NoLimitCoins uses the social casino model, which includes two modes of play, and does not break any US laws, making it an ideal way for slots aficionados across the US to enjoy their favorite hobby without any risks involved. Check it out yourself.
The operator offers several dozen high-quality casino games developed by NetGame Entertainment, a lesser-known software developer whose games often mimic some of the most popular slots in the market.
NoLimitCoins casino offers plenty in terms of promotions, allowing players to compete in various daily tournaments, spin the Lucky Wheel each day, and get rewarded for their participation in other ways.
If you are looking for a new social casino to play at, keep reading our detailed NoLimitCoins Casino review and find out what pros and cons this casino offers compared to its closest competitors.

Why Play at NoLimitCoins Casino
Are you wondering why you should play at NoLimitCoins Casino? Here are the main pros and cons of choosing NoLimitCoins.com as your platform:
✔️ NoLimitCoins Casino Pros
Legal to play in the US
Over 70 exciting slots and several fishing games
Redeem your SC for real money prizes
Extra coins on the first purchase
Available for instant mobile play
🔴 NoLimitCoins Casino Cons
Several banned states
Not licensed by a major regulator
Only one software developer is available
NoLimitCoins Casino Bonuses – Promo Code & More
Bonuses and promotions start at NoLimitCoins as soon as you sign up for your account, as an instant bonus of 100,000 GC is added to your account before you make any purchases.
If you decide to buy more coins, the operator will boost your first purchase of $11.99 or $29.99 significantly, with up to 50% more coins awarded to help get you started.
Everyone who joins the casino is eligible for these bonuses, and you will not need a NoLimitCoins Casino promo code or any sort to activate your extra coins.
Once you are established with the operator, you will notice a number of recurring promotions are offered on top of the welcome bonus, allowing you to win some extra chips every single day.
These promotions include daily slot tournaments, spins on the Lucky Wheel, opportunities to refer your friends, and even a special one-time offer that allows you to get up to 1,800 SC for free just for verifying your account.
NoLimitCoins Casino Welcome Bonus
As mentioned, NoLimitCoins Casino awards all newcomers with a starting balance of 100,000 Gold Coins, a great way to get you started and allow you to experience the games portfolio without making any purchases.
Once you have tried the games, you may decide to buy more coins to play for higher stakes and experience the Super Coins gameplay mode with the free SC awarded with each GC purchase.
If you go down this route, two NoLimitCoins Casino welcome bonus opportunities are available, adding extra coins to your balance.
The following purchases will give you extra coins on your first purchase:
$11.99 – Buy 360,000 GC & Get 1,560 SC for Free. Buy now.
$29.99 – Buy 1,050,000 GC & Get 4,500 SC for Free. Buy now.
These offer 30% and 50% boosts on top of what you would normally get for the same purchase, making them a great way to kick-start your journey with NoLimitCoins Casino.
The best thing about it is that there are no special terms & conditions related to these offers, and once you have purchased the coins, they are yours to play with and enjoy in any way you see fit.
Win Daily Prizes with a Lucky Wheel
Probably the most valuable promotion offered at NoLimitCoins Casino is the Lucky Wheel promo, which allows you to spin the Wheel once every day and win free GC and SC with no strings attached.
To get your opportunity to spin the Lucky Wheel every day and enjoy this casino bonus, you will need to verify your phone number, and that's pretty much all the commitment that's expected of you.
Once you have done so, you will get your daily spins and will have a chance to win up to 275k GC and up to 500 SC on the Wheel every day, allowing you to play both gameplay modes without making any purchases.
The Lucky Wheel promotion is one of the best ways to play at NoLimitCoins Casino for free and experience the casino for as long as you wish without making any financial commitments.
Daily Slot Tournaments at NoLimitCoins Casino
Daily slot tournaments are offered in both GC and SC gameplay modes at NoLimitCoins Casino, letting you win extra prizes when playing your favorite slot games.
Daily tournaments start at various times of day, last for up to 8 hours each, and award points to all active players during the period, awarding the luckiest with a chunk of the prize pool.
Playing slots during daily tournaments will give you a chance to win your share of up to 10,000,000 GC or up to 36,500 SC, depending on the gameplay mode you are playing in.
You don't have to do anything special to join the tournaments, but simply be in the right place at the right time and get a little lucky to win the prizes.
Refer a Friend for Coin Prizes
Another way to boost your GC and SC balances at NoLimitCoins Casino is by referring your friends over to the platform.
Every player who registers with NoLimitCoins can share their unique referral links, winning up to 900,000 GC and 2,500 SC for every player they refer who makes a purchase with the operator.
If you have friends who enjoy playing slots and are looking for safe and legal places to play, the refer-a-friend program at NoLimitCoins is another great way to win some extra coins without any risks.
Can I Win Real Prizes at NoLimitCoins Casino?
This is one of the most common questions we hear regarding sweepstakes casinos, and the answer is quite straightforward.
While social casinos don't allow for real money play, NoLimitCoins Casino will let you win any number of SC and redeem them for real money or gift card prizes at a rate of $1 for 100 SC.
SC redemption is a fairly straightforward process, and you can get your hands on SC by playing in the SC gameplay mode on the platform.
To get your first SC and start playing the games, you will need to make a GC purchase to get some SC for free on the side or get some free SC via one of the many promotions on the platform, such as the Lucky Wheel daily promo.
Registering and Playing at NoLimitCoins Casino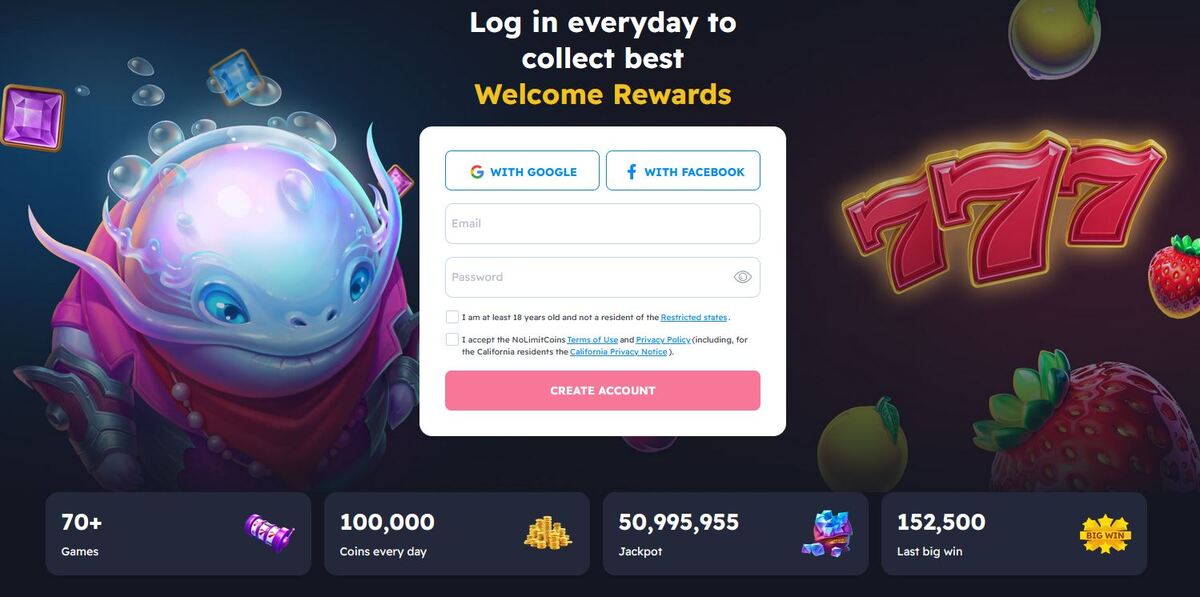 The first step towards playing at NoLimitCoins Casino is to set up your account and get verified with the operator.
The process is easy and fast, and you will be up and running within minutes, but it's important to know and understand all the steps and why they are necessary before you start the process, so let's explain each step from your first visit to actually playing on the platform.
Creating a NoLimitCoins Casino Account
When you first load up the NoLimitCoins Casino on your desktop or mobile device, you will be asked to register an account. Creating a NoLimitCoins login is essential, as you cannot play any games without first being a registered user.
To get an account, you must enter your email and preferred password, or simply link your Google or Facebook account with the platform, allowing instant login.
Keep in mind that you won't have to verify your identity right away or even give your personal information immediately, such as address or phone number.
Instead, NoLimitCoins will let you play and experience other parts of the platform before completing your verification, which will only be necessary if you decide you want to redeem some SC for cash prizes.
In all other cases, you can use NoLimitCoins Casino without restrictions after completing the quick one-step registration process that takes less than a minute.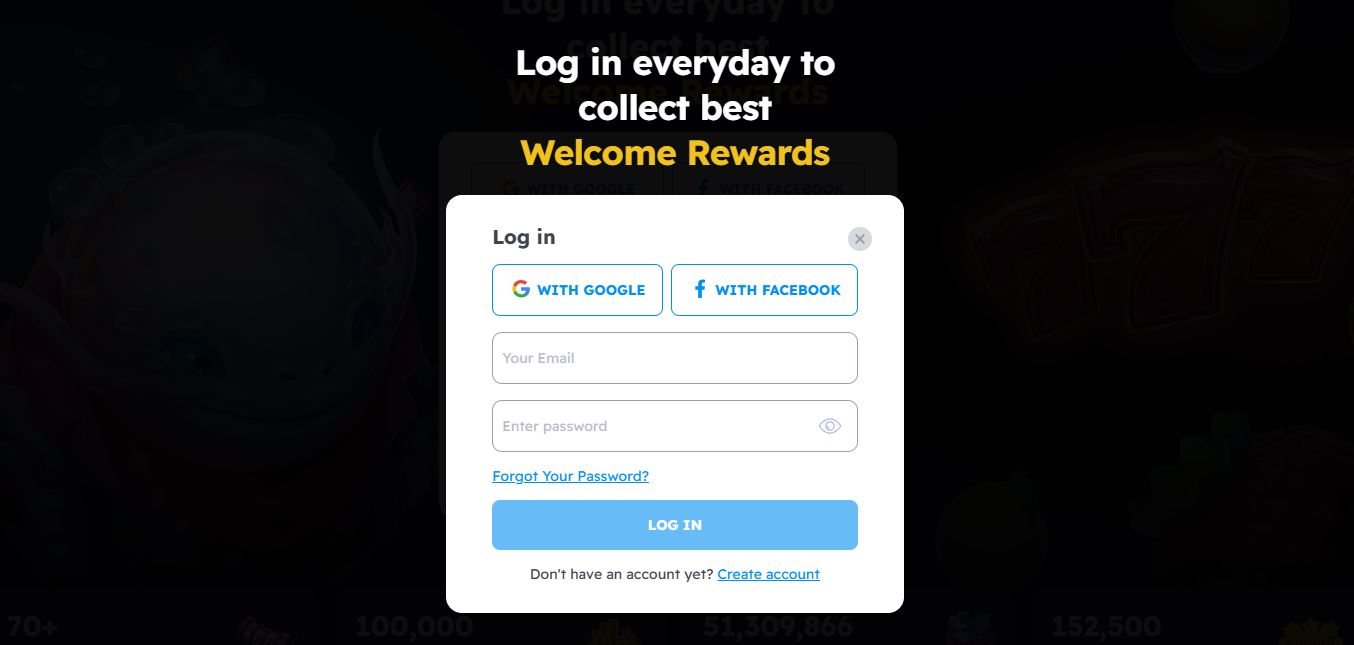 NoLimitCoins Casino Login
Once you have set up your account, you will be able to log into the platform by providing the data you entered during the registration, including your selected password.
The same login data will be valid for all devices you may want to play on, which means you can set up your account on your PC and then play on your mobile device at a later point if you so choose, and vice versa.
Once registered with NoLimitCoins, your login data will not change unless you request a password change, and you will always be able to play on your account by providing the same set of login data on any device within the legal jurisdiction in which the casino is available.
Buying Gold Coins
When you first sign up with NoLimitCoins Casino, you will receive a starting bankroll of 100,000 Gold Coins (GC), which you can use without any restrictions.
There are many ways to get your hands on additional GC for free, but if you decide you want more GC and can't be bothered to wait, the operator allows you to buy some.
You can use your credit or debit card to make the purchase, and you will receive some extra coins on your first purchase as well, as discussed in the welcome bonus section of this review.
However, you can keep buying GC as much as you like after that initial purchase, and you can buy quite a few coins for very reasonable prices.
These are the packages currently offered at NoLimitCoins Casino:
$4.99 – Buy 50,000 GC & Get 500 SC for Free
$9.99 – Buy 100,000 GC & Get 1,000 SC for Free
$11.99 – Buy 360,000 GC & Get 1,560 SC for Free (One Time)
$19.99 – Buy 200,000 GC & Get 2,000 SC for Free
$29.99 – Buy 1,050,000 GC & Get 4,500 SC for Free (One Time)
$49.99 – Buy 500,000 GC & Get 5,000 SC for Free
$99.99 – Buy 1,000,000 GC & Get 10,000 SC for Free
$149.99 – Buy 1,500,000 GC & Get 15,000 SC for Free
$199.99 – Buy 2,000,000 GC & Get 20,000 SC for Free
Get Free Super Coins
The other currency at NoLimitCoins Casino is called Super Coins (SC), and unlike GC, it cannot be purchased for real money.
However, as described above, you will get some free SC every time you make a GC purchase, which means there is a way to regularly replenish your SC balance if you run out of SC in your account.
On top of GC purchases, free SC are also available every day on the Lucky Wheel, which gives you a chance to win up to 500 SC daily without any risk involved.
SC can also be won or acquired via a variety of other promotional offers. Ultimately, you will also be able to win more SC by using the SC you have in your account to play in SC gameplay mode, with all wins paid in SC.
Playing the Games
Once you have set up your account and acquired your starting GC bankroll or made further purchases to get even more coins, you will be able to start playing at NoLimitCoins Casino.
The casino currently offers 77 games in total, and all of them are available for play in both GC and SC mode, the two modes available at the casino.
The starting bet levels at NoLimitCoins Casino are quite low in both modes, allowing you to play quite a bit with just the starting balance or a small purchase.
If you are playing just for fun, you can make a small bankroll go a long way. If you want to amass a huge balance, higher-stakes play is also available.
Keep in mind that real money play is never available at NoLimitCoins Casino, and you will only ever be able to play the games in GC or SC gameplay modes, both free to play.
Redeeming SC for Cash Prizes
The biggest perk of playing in the SC gameplay mode is that any SC you win can be redeemed for real money prizes.
Once you have accumulated at least 25 SC in your account, you can start redeeming them for gift cards, while a balance of just 100 SC will be needed to make real money redemption.
If you opt for gift cards, you will get to choose between Amazon, Target, and DSW, while cash payments can be made via online banking directly into your bank account.
The redemption process is very straightforward, but you will need to verify your account before you can redeem your coins, which means you will have to make a minimal purchase and provide valid copies of some personal documents.
However, the process in a whole is quite simple and not very demanding, and once completed, it will allow you to keep redeeming your SC as many times as you want.
NoLimitCoins Casino Mobile App
Mobile play has become the standard for real money online casinos, and NoLimitCoins Casino follows this trend and allows players to enjoy their favorite games on their mobile phones and tablets.
Playing on your mobile device at NoLimitCoins is easy, as the site is 100% mobile-friendly and optimized to work well on all types of mobile devices.
To get started, all you need to do is visit the casino from your mobile device's internet browser, and you will immediately gain full access to the site and all its features and games.
The site comes equipped with the auto orientation feature, which makes it very easy to play on mobile devices, and all the games on the platform are optimized for mobile play with HTML5 technology.
⭐ NoLimitCoins Casino App for iOS
NoLimitCoins Casino is available for all types of mobile devices, but you will not find a native NoLimitCoins Casino app for iOS in the App Store or on the operator's site.
Considering the platform is fully optimized for instant play action, there isn't really a need for such an app, but players who prefer to have a downloadable app on their phone are out of luck.
There is no reason for concern, though, as NoLimitCoins will work just fine on your iPhone, and you should have no problem accessing the instant play site and playing on your iOS-powered device.
⭐ NoLimitCoins Casino App for Andoid
Like iOS, Android users can also enjoy NoLimitCoins Casino in full but will not have the option to download a native app to their devices.
Instead, the NoLimitCoins Android app is available as an instant play app, accessible via Google Chrome or any other internet browser you may be using on your device.
Once you have set up your account, you will be able to play on your Android-powered phone or tablet and access all 77 games on the platform instantly at any time of day or night.
NoLimitCoins Online Casino Games
Now that we have discussed the various gameplay modes and features of NoLimitCoins Casino, it is high time we take a look at the operator's casino games portfolio as well.
In total, the library of casino games at NoLimitCoins is made up of 77 titles, the vast majority of which are online slots, with a handful of entertaining fishing games in the mix as well.
All 77 games at NoLimitCoins Casino are powered by NetGame Entertainment, an emerging software developer whose games mimic many of the industry's top titles and include many of the most popular features, themes, and bonuses beloved by casino players.
The lack of any table games or other variations of gambling games is a bit of a downside, but NoLimitCoins Casino does a decent job of making up for it through variety in slot action.
Players would probably love to see the operator add games from other software companies as well, and this is certainly something we might see coming to the platform in the years ahead.
NoLimitCoins Casino Slots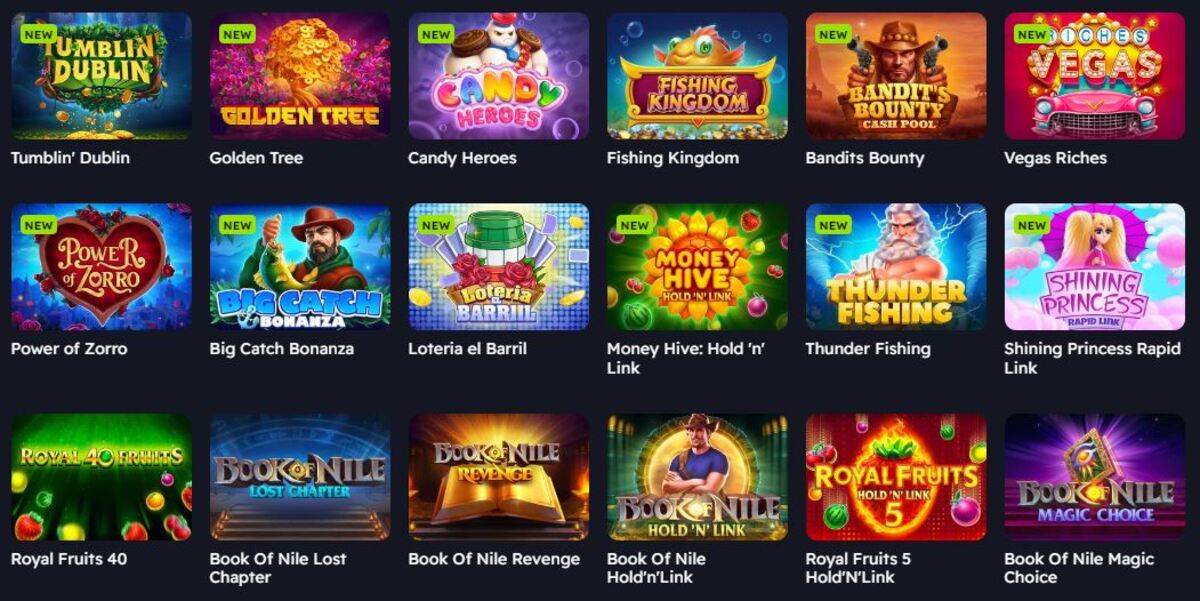 The majority of all games found at NoLimitCoins Casino are slots, with a variety of themes and gameplay features included across the 74 slot titles.
The operator even splits the games into different collections, such as Rapid Link, Hold 'n Link, Into the Wild, Eastern Tales, and "Book of" Games, allowing you to quickly find games by theme or main gameplay feature.
Overall, you will find a decent selection of slots at NoLimitCoins, and all games are available for play in both GC and SC mode and on both desktop and mobile devices.
All slots found at NoLimitCoins Casino are made by NetGame Entertainment, and many of them resemble the most popular slot games found at real money casinos in both appearances and gameplay.
Some of the top slots found at the casino include:
Explorer's Gold: Cash Blast
Charming Gold: Hold 'n Link
Wild Buffalo
Wolf Reels: Rapid Reels
Big Catch Bonanza
Bandit's Bounty: Cash Pool
NoLimitCoins Jackpot Slots

While you won't find any massive progressive jackpot slots to speak of at NoLimitCoins Casino, 15 of the games on the platform offer one or more jackpots you can win.
Chasing after the jackpots, whether you are playing in GC or SC gameplay mode, will be extremely entertaining, and these games tend to be some of the most fun at the casino.
A few of the popular jackpot slots found at NoLimitCoins Casino include:
Lotus Fortune
Diamond Shot
Cleo's Heart
Royal 20 Fruits
Fortune Cash
NoLimitCoins Casino Fishing Games
Apart from slots, fishing games are the only other type of casino games found at NoLimitCoins, and this exciting group of games adds some flare to the platform.
At this time, the three fishing games available at the casino include Thunder Fishing, Candy Heroes, and Fishing Kingdom.
These games include skill and social components, allowing you to play with other players and make actual decisions that make a difference in your end result.
Fishing games are also very similar to arcade games you would find outside of casinos, which makes them extremely enjoyable to play and allows you to forget you are playing a casino game altogether, which is ideal when playing at a social casino site like NoLimitCoins.
NoLimitCoins Casino Payment Methods & Limits

Looking at payment options offered by NoLimitCoins Casino, it is important to start off by saying that no real money deposits are possible at the site, as there is no real money play option here.
Instead, you will have a chance to purchase GC for real money, and you will need to make payments for these using your debit or credit card.
As long as you are playing from one of the states that NoLimitCoins Casino accepts, you will have no problem processing such payments.
On the other hand, when it comes to redeeming your SC for real money, your options will come down to purchasing gift cards or making a withdrawal into your bank account.
It is worth saying that real money redemption is quite easy, and once you have confirmed your account in full, you should have no major delays in processing such requests and getting a hold of your cash rewards.
NoLimitCoins Casino – User Experience
Compared to other social casinos like Pulsz or McLuck, NoLimitCoins Casino is a relatively new site, but it has already established itself as an enjoyable and safe place to play.
The social casino platform offers just 77 games, but the ones found here will provide you with a top-notch experience as you venture into a different imaginary world with NetGame Entertainment's exciting games.
The operator offers a platform that works equally well on desktop and mobile devices and allows players to enjoy their favorite gameplay mode on any device they choose.
All games are supported in both gameplay modes, so you can always choose whether you wish to play for GC or SC at any given moment.
Overall, the user experience you will find at NoLimitCoins Casino is pretty solid, although the operator could make some further adjustments and grow the platform to make it even more user-friendly and engaging.
⭐ Customer Support
While NoLimitCoins Casino does not offer an FAQ page that would give you quick answers to the most common questions asked by players, there are several support channels you can use to get the answers you are looking for.
For starters, an email address allows you to ask your questions and get an answer within 24 hours, but this can be a long time to wait for the more burning issues.
If you have a more pressing question, you can try to reach out to the operator via live chat, which is available on-site, and you should be able to reach a support agent within just minutes.
Finally, the operator is also active on major social networks like X and Facebook, and you can reach out via these channels and also get in touch with support agents via these alternatives.
For payment questions only, the operator also offers a US-only phone number, where issues regarding financial issues can be resolved quickly and effectively.
⭐ NoLimitCoins Casino Available States
Players from most states in the US can play at NoLimitCoins Casino without any problems, with Washington, Wyoming, and Idaho being the only exceptions.
In all other states, both GC and SC gameplay modes are fully available, and there are no legal restrictions to playing in either of these modes, as you prefer.
Players from across America can play, win, and redeem their SC for real money prizes or gift cards at all times, and you can be sure that you are not breaking any laws by playing at NoLimitCoins Casino, as social casinos are completely legal and safe to play at.
NoLimitCoins Casino App – Should I Try It?
Social casinos are the very best way for American players to enjoy the online casino experience, apart from those living in the few states that allow for legal real-money casinos like New Jersey, Michigan, or Pennsylvania.
Within the realm of social casinos, the NoLimitCasino app ranks quite well and offers some amazing promotions, although the selection of games on the platform still lags behind some of the competitors.
While a government body does not license the casino and does not guarantee fair play and security, the user experience has been positive and encouraging.
You will find plenty of fun games and exciting promos to use at NoLimitCoins Casino, and there are very few red flags to mention at this time that should deter you from playing here.
We suggest setting up an account for yourself, taking your 100,000 GC free bankroll, and trying the platform yourself to see how you fare and whether this is the right casino for you, as it will cost you nothing to give NoLimitCoins Casino a chance.
Sign up today for a free account, a free starting bankroll, and a chance to participate in numerous promotions where you can win free GC and SC every single day without any risk involved.
If you are looking for alternatives to NoLimitCoins, you might want to check Funrize Casino and TaoFortune Casino.
NoLimitCoins Casino FAQ