TaoFortune Casino – Get 88,000 Tao Coins For Free!
19 minutes
Last Updated: September 11, 2023
Like all social casino platforms, TaoFortune Casino is legal throughout the US, with only players from the states of Washington, Wyoming, and Idaho currently not accepted, and all other Americans can play perfectly legally and safely.
TaoFortune Casino offers two gameplay modes, with Tao Coins and Secret Coins being the two currencies used to play the operator's portfolio of 78 games in total.
The operator offers a variety of promotions and bonuses, along with unique quests and competitions that allow players to have a blast while earning extra coins and enjoying the platform to the fullest. Check it out yourself.
In this TaoFortune Casino review, we will discover everything about the site, including how it operates in both gameplay modes.
Keep reading to find out if TaoFortune Casino is the right place for you to play, and discover all the special offers you can claim today if you decide to sign up with the operator.
Why Play at TaoFortune Casino
Part of the same family of social casino sites as Funrize Casino and NoLimitCoins Casino, TaoFortune Casino is another newcomer to the market with plenty to offer.
Are you wondering why you should play at TaoForutne Casino? Here are the main pros and cons of choosing Taofortune.com as your platform:
✔️ TaoFortune Casino Pros
Legal in most parts of the US
Wide range of casino games
Fishing games available
ApplePay purchases possible
Extra coins via bonuses & promotions
🔴 TaoFortune Casino Cons
Unavailable in three states
No e-wallet payment solutions
No native iOS or Android apps
TaoFortune Casino Bonuses – Promo Code & More
Like most social casinos, TaoFortune offers various bonuses and promotions that you can take advantage of when you sign up.
It all starts with a special 88,000 Tao Coins welcome bonus, which is issued to all new players upon registration, and there is plenty more where that came from.
On top of the 88,000 Tao Coins you can get for free, the operator offers plenty of bonus packages that boost your purchases as a new player on the platform.
Existing players at TaoFortune can look forward to a series of Tao Quests and daily opens of Magic Boxes containing free Tao Coins and Secret Coins, giving everyone plenty of chances to boost their bankrolls without any purchases needed.
TaoFortune Casino Welcome Bonus
All players who sign up with TaoFortune Casino are greeted with a welcome bonus, with 88,000 Tao Coins added to their balances immediately.
The free Tao Coins will give you a chance to try out the platform, check out the different games, and get familiar with how the casino works before you decide to make any purchases.
If you decide to boost your bankroll further by purchasing Tao Coins, you will also be rewarded with free Secret Coins, which can be used to play in SC mode and eventually convert your SC into real money rewards.
When making your first purchase, the operator will award you with some extra coins if you choose the right package, with the following bonus packages available at this point:
$9.88 – Buy 250,000 TC and get 1,250 SC (25% Bonus). Buy now.
$19.88 – Buy 600,000 TC and get 3,000 SC (50% Bonus). Buy now.
The boosts you can get when making your first purchase are the best way to kick-start your experience at TaoFortune Casino, and they are not subject to any unreasonable terms & conditions, the kind of which you might see at some real money casinos.
Once you receive your coins, you will be able to play with them as you see fit and convert any SC winnings you may get into real money rewards as you see fit.
Free Coins Every Day with Magic Boxes and Tao Quests
If you have already claimed your welcome bonus and made your first purchase at TaoFortune Casino, plenty of free coins are up for grabs.
The Magic Boxes promotion gives every player a chance to win up to 275,000 TC and 500 SC daily by picking one of the three boxes in the promotional window.
It is worth noting that you will need to complete your registration and provide the operator with some extra information about yourself before you can play the Magic Boxes mini-game, but it will be well worth your time to do so.
Furthermore, you can win up to 1,000,000 TC by completing various Tao Quests daily, giving you various tasks to complete on the platform, and awarding you with free coins depending on how well you do on the leaderboard.
With Magic Boxes and Tao Quests combined you will have plenty of coins to spread around and enjoy at TaoFortune Casino.
Win Free Coins by Referring Friends
TaoFortune Casino also offers a comprehensive refer-a-friend program, which allows you to win free TC and SC by signing up your friends to the platform.
Tell your friends about TaoForutne Casino and spread the registration link you will receive, and you will stand to get up to 900,000 TC and 2,500 SC for every player you bring to the platform.
What's even more, your friends can also get 400,000 TC and 500 SC in extra coins when they sign up through your link, making it a win-win situation.
If you have friends who share your passion for social casino games, make sure to refer them to TaoFortune Casino, and you will both profit from it.
Can I Win Real Prizes at TaoFortune Casino?
Like Pulsz Casino and pretty much all other social casinos you will find, TaoFortune Casino does not offer a real money play, which means you will not be able to win real money directly in the games.
However, there is still a way to win real money rewards by playing on the platform, as all Secret Coins (SC) you win in the games can be redeemed for real cash prizes.
By playing with the SC you get for free while purchasing TC or through various promotions, you will be able to accumulate more SC and eventually redeem them for cash prizes.
All SC in your balance are redeemable at a rate of $1 in cash prizes for 100 SC, and the redemption process is fast and painless, giving you a very real shot to win real money while playing some entertaining games on the social platform.
Registering and Playing at TaoFortune Casino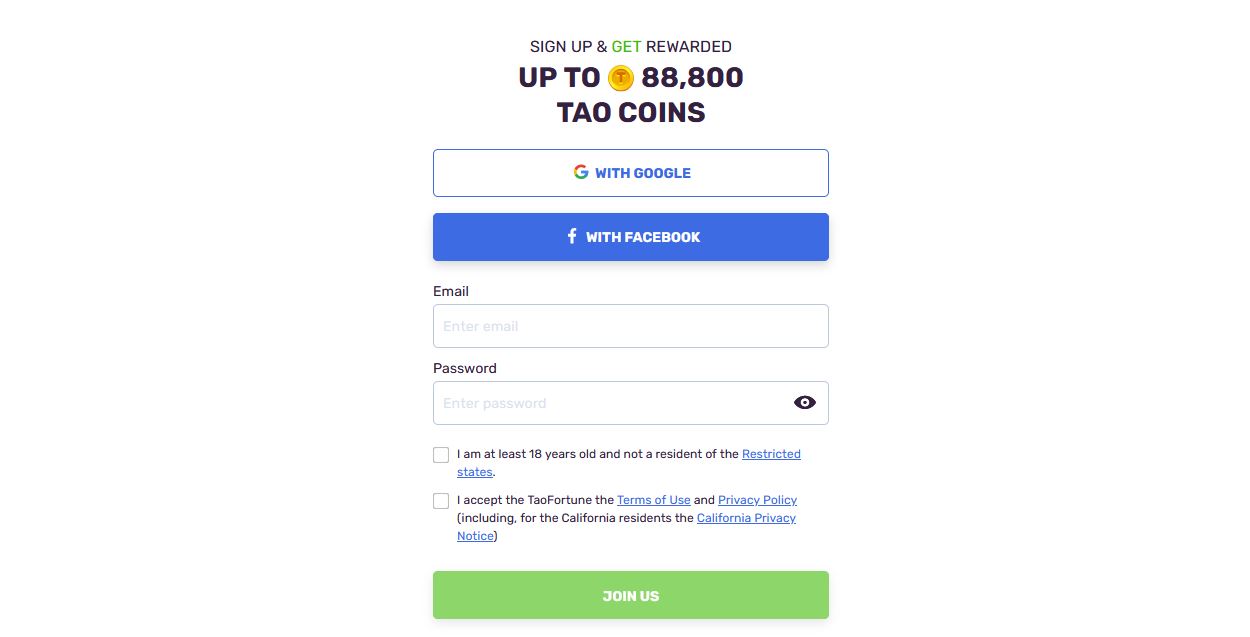 TaoFortune Casino is a sweepstakes casino that accepts players from 47 US states and Washington, DC, allowing quick registration and game access.
To get started at TaoFortune, you will need to register an account, which takes no more than a minute, and you will be good to start playing games in TC mode.
Keep reading to learn more about the registration process and the exact steps to take you through the whole experience at TaoFortune Casino.
Step #1. Creating a TaoFortune Casino Account
The first step in playing at TaoFortune Casino is to create your user account. Fortunately, this is very easy to do and requires minimal effort.
On the registration screen, you can choose between registering with an email and a password or using your existing Facebook or Google accounts to log into TaoFortune.
While you can go ahead and create a unique account, the fastest way to register is to connect with your Google account. In this case, you will get email confirmation of your registration right away and will be logged into your new account.
As you play at TaoFortune Casino further, you will need to provide more information to the operator to participate in various promotions or redeem your SC, as only fully confirmed players can access these site features.
Step #2. TaoFortune Casino Login
After creating your TaoFortune account, you will immediately be able to log in, although some features of the platform may be blocked until you are fully verified.
However, you can log into your TaoFortune Casino account on any device of your choice with the login information you selected during the registration process, whether you prefer desktop or mobile play.
Once your account is fully set up, you can change your login information, including your password and associated email. However, if you don't choose to do so, the information you selected at registration will remain relevant for all future logins.
Step #3. Buying Tao Coins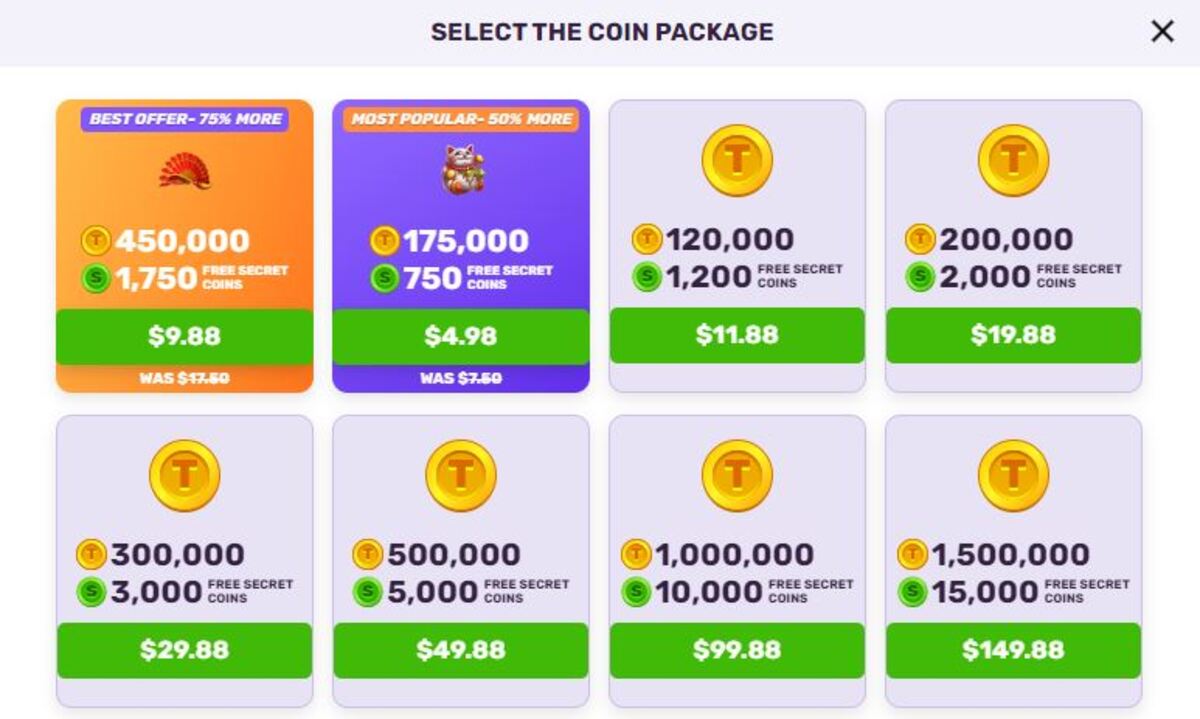 Tao Coins (TC) is the basic currency of TaoFortune Casino, and they are used to play games in the TC gameplay mode, where no real money prizes can be won.
When you sign up with the operator, you will receive 88,000 TC at no charge at all, allowing you to try the different games and get a feel for TaoFortune Casino.
If you decide you want to play for higher stakes, or you end up losing the 88,000 TC you got at registration, you can replenish your bankroll by purchasing TC at reasonable prices.
At this time, the following TC packages can be purchased from TaoFortune Casino:
$4.98 – 150,000 TC + 1,000 Free SC
$9.88 – 250,000 TC  + 1,250 Free SC (First Purchase Only) – Buy now!
$11.88 – 120,000 TC + 1,200 Free SC
$19.88 – 600,000 TC + 2,000 Free SC
$29.88 – 300,000 TC + 3,000 Free SC
$49.88 – 500,000 TC + 5,000 Free SC
$99.88 – 1,000,000 TC + 10,000 Free SC
$149.88 – 1,500,000 TC + 15,000 Free SC
$199.88 – 2,000,000 TC + 20,000 Free SC
You can pay for all your TC packages using credit and debit cards such as Visa and MasterCard, and the transactions will be easily processed as they are not treated as gambling transactions by the banks.
Keep in mind that first-time buyers can get up to 50% extra coins when buying the $19.88 package, making this the best value buy you can make on the platform.
Step #4. Getting Free Super Coins
The other gameplay mode at TaoFortune Casino is the SC mode, which requires you to acquire Secret Coins (SC) before you can get involved.
Unlike Tao Coins, Secret Coins cannot be purchased and can only be received from the operator for free.
Fortunately, TaoFortune will give you some free SC every time you complete a TC purchase, along with more SC you can win through Magic Boxes and other promotions.
The easiest way to get your hands on some free SC is to make a TC purchase, with the operator awarding all buyers with free SC they can use to play in the other gameplay mode.
However, you can also get SC without spending any money. Referring friends and opening Magic Boxes are only two possible ways to grow your SC bankroll daily.
Step #5. Playing the Games
Once you have acquired a bankroll of either TC or SC in your account, you can play any of the 78 games offered on the platform.
All games are offered in both modes, and you can quickly switch between TC and SC play by clicking the switch in the top-right corner of your screen.
The games will adapt to the gameplay mode you have chosen, and you will be clearly notified of the gameplay mode you are currently in.
The casino offers a wide variety of stakes in both gameplay modes, allowing you to play with a small bankroll or a bigger one and spin for any amount you prefer.
It is important to note that TaoFortune Casino does not offer any real money play and that both TC and SC gameplay modes are 100% free to play without any real money deposits or cashouts required on the part of the player.
Step #6. Redeeming SC for Cash Prizes
Once you have set up your TaoFortune Casino account and fully verified it, you will become eligible for SC real money prize redemption.
All SC accumulated in your account can be redeemed for real money or gift cards at a rate of $1 for 100 SC, with the only condition being that you must wager every SC you own at least once.
If you choose to redeem your SC for gift cards, you can redeem once you have $25 worth of SC in your balance.
If, on the other hand, you want to get paid in cash, you will need to have at least $100 worth of SC in your balance, meaning 10,000 SC.
When redeeming for cash prizes, you will need to submit a request, and you will see the money in your bank balance within a few business days.
It is important to note that a direct bank transfer is the only currently accepted method for cash redemption. However, this method works very well and is the most secure possible way to redeem your prizes from the casino.
TaoFortune Casino Mobile App
Like most modern online casinos, social or otherwise, TaoFortune Casino offers all its services to mobile users, with all major mobile devices fully supported.
In order to use the TaoFortune Casino on your mobile device, you will simply need to access the site in your device's mobile internet browser, and the entire platform will be instantly available.
You can register for an account using TaoFortune Casino mobile or use the login details you have previously created on a desktop computer to access your account.
In either case, once logged in, you will have access to all the site games, features, and sections, with the entire platform compatible with mobile use and play.
Whether you have one of the top mobile devices with a big screen or any other mobile device running on Android or iOS, the platform will adapt to your screen size and allow you to use it in full for a high-quality mobile gameplay experience.
⭐ TaoFortune Casino App for iOS
Native apps are becoming increasingly obsolete in the online gaming world, as instant play options allow players to enjoy casinos without downloading apps to their devices.
Like so many other operators, TaoFortune has also opted for the instant play model and does not currently offer a dedicated TaoFortune Casino app for iOS.
Instead, if you are trying to run the casino on your iPhone or iPad, simply load up the internet browser and access TaoFortune directly. Don't bother looking for the TaoFortune Casino app in the App Store, as it is not available at this time and will likely not be added anytime soon.
⭐ TaoFortune Casino App for Android
In the same way, iOS users can access TaoFortune Casino via their internet browsers.
While a dedicated TaoFortune Casino app for Android devices has not been created, the instant play platform supports all types of Android devices, such as Samsung phones and other similar devices.
Instead of looking to Google Play to download an app to your device, simply follow the link to TaoFortune Casino and enjoy playing on your phone immediately, with no downloads necessary.
TaoFortune Online Casino Games
We have talked about bonuses, promotions, and features of TaoFortune Casino, but now it is time to take a look at perhaps the most important thing, and that is the selection of games at TaoFortune Casino.
The platform offers 78 casino games, all coming from NetGame Entertainment, a software developer dedicated to creating appealing games for social casino sites.
The games you will find in the library offer a variety of exciting gameplay features, many of which mimic the most popular online slots you will find in real money casinos out there.
The portfolio of games at TaoFortune Casino is made up almost entirely of video slots, with only three fishing games falling into a different category.
That said, there is plenty of variety to be found, as every game on the platform is different and unique in its own way, meaning there are plenty of hours of entertainment.
TaoFortune Casino Slots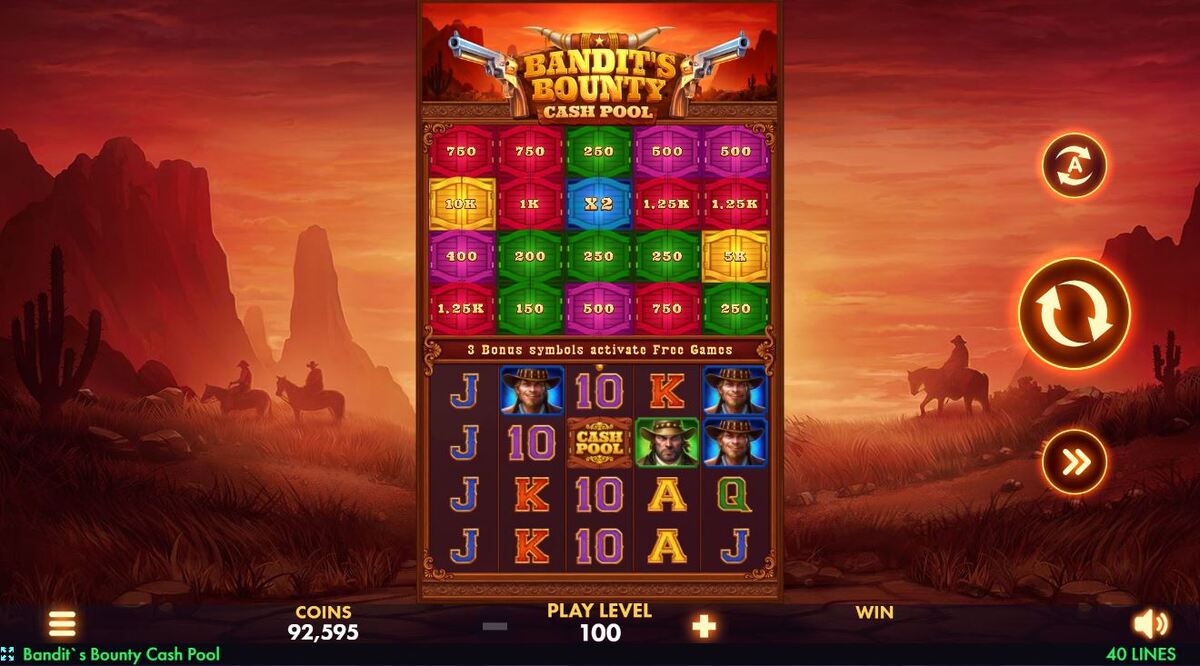 As mentioned, NetGame Entertainment's slot games make up most of TaoFortune Casino's games portfolio, with 75 different games on offer.
The slots you will find at the casino are all very modern and on par with those you will find at the world's biggest casinos.
In fact, many of these games mimic the gameplay mechanics and themes of the biggest slot games out there to perfection, giving you the same experience as you would expect in real money casinos in Las Vegas or online.
All slot games available at TaoFortune Casino can be played in both the TC and the SC gameplay mode, allowing you to grow both bankrolls at your own pace.
You can play TaoFortune slots for stakes of your choice, ranging from the lowest to some pretty high stakes across both gameplay modes.
Some of the more exciting slot games you can find at TaoFortune Casino include:
Farmer Bill
Cactus Riches
Savanna Squad
Aladdin's Chest
Frosty Fruits
Jungle 2
Volcano Fruits
TaoFortune Casino Jackpot Slots

For an even more exciting slot experience, TaoFortune Casino has prepared a number of jackpot slots, which offer the possibility of winning a massive jackpot on every spin.
The jackpots found at TaoFortune are not the same as the progressive jackpots you might find in some real money casinos, but they can be quite massive compared to your original bet.
If you like to play slots that offer a real chance of a mega win, TaoFortune Casino jackpot slots will be an ideal choice for you.
Some of the top jackpot games at TaoFortune Casino are:
Mystery Dragons
Cleo's Heart
Wild Buffalo
Dancing Lanterns
Dragon Sevens
TaoFortune Casino Fishing Games
The only game category aside from slots you will find at TaoFortune Casino is fishing games, with t total of three NetGame Entertainment fishing games found in the portfolio.
These games have some similarities with slots but are also different in a major way, with player action affecting the final outcome and some very interactive gameplay possible.
Instead of simply watching the reels spin, you can choose your targets, shoot at your own pace, and hope to catch the biggest fish out there and bank on the big wins.
Fishing games also offer social gameplay, with more than one player playing the game at one time, making them incredibly exhilarating and fun to join.
The fishing games available at TaoFortune Casino are:
Candy Heroes
Fishing Kingdom
Thunder Fishing
💳 TaoFortune Casino Payment Methods & Limits
While TaoFortune Casino does not allow for any real money play or deposits, it does offer real money purchases of Tao Coins and real money redemption of Secret Coins.
When it comes to purchasing Tao Coins for real money, several payment methods are available, but all are directly connected to your bank accounts.
You will be able to pay for TC using online bank transfers, credit and debit card payments, and ApplePay.
No e-wallet or other virtual payment options are available.
When it comes to redeeming your SC for real money prizes, you will only have the option to request a redemption into your bank account, which will be processed within a few business days.
In order to request real money prize redemption, you will need to accumulate at least $100 worth of SC in your balance and confirm your identity in full before redeeming the coins.
TaoFortune.com User Experience
Looking at the current social casino landscape, TaoFortune Casino fits right in and offers an even better overall experience than some of its closest rivals.
Although relatively new to the industry, TaoFortune already has a portfolio of 78 premium casino games available in two gameplay modes.
The platform is of a very high quality, and works equally as well on desktop as on mobile devices, making it ideal for play at home or on the go.
Players can easily complete their TC purchases and receive the free SC on top of their bought coins, allowing them to compete for real money prizes.
User feedback on TaoFortune Casino has been mainly positive to this day, pointing to high levels of user satisfaction and enjoyment on the platform.
⭐ Customer Support
Good customer service is a staple of any successful business, and TaoFortune Casino does not lag behind in this department.
While we would love to see a more extensive list of FAQs on the site, answering the most common questions immediately, the operator's live chat support is at a high standard.
Not only is live chat support available at all hours of day and night, but agents are quick to respond and offer solutions for any problems you may be experiencing.
Whether we are talking assistance with bonus coins, payments, or other issues, TaoFortune Casino staff will be quick to help you and patient to resolve any issue you may be experiencing with the platform.
⭐ TaoFortune Casino Available States in the US
Social casino gameplay is legal and allowed across most American territories, which is why players from 47 states and Washington, DC can all join and play at TaoFortune Casino unhindered.
At this time, only players from the states of Washington, Wyoming, and Idaho will not be able to play at TaoFortune Casino, while everyone else can sign up and play in both gameplay modes.
It is important to note that while online gambling remains illegal in many states, purchasing coins and playing at a social casino is not illegal. You will not get into any trouble if you play at TaoFortune Casino and even redeem some cash prizes from the operator.
TaoFortune Casino – Should I Try It?
Coming to the end of our TaoFortune Casino app review, we can summarize everything we looked into and make some conclusions. Compared to other competitors in the social casino market like McLuck Casino, TaoFortune Casino stands shoulder to shoulder with the best of them.
The operator offers 78 games and huge rewards to the lucky players.
While real money play is not legal at social casinos, the rewards you stand to win when playing in the SC mode are significant and very real, meaning the enjoyable experience will turn into handsome rewards for some lucky players.
Available on both desktop and mobile devices, safe and secure, and operated by a legitimate company, TaoFortune Casino does not demonstrate any immediate red flags we could warn you about.
Instead, we recommend you sign up with TaoFortune for yourself, claim the TaoFortune Casino welcome bonus, and decide if this is the platform you want to spend your leisure hours enjoying. Check it out here.
TaoFortune Casino FAQ