NY Online Casinos – Legal Online Gambling in New York
22 minutes
Last Updated: August 26, 2023
Despite constant attempts to regulate online gambling, real money online casinos in NY remain illegal. New York is still on the other side of the fence, failing to join the likes of Michigan, Pennsylvania, and even neighboring New Jersey in passing the regulation.
So, when it comes to online casinos in New York, there are no state-licensed sites to speak of.
That said, if you're looking for legal online gambling options in NY, the good news is that there are a few good ones, and we'll provide you with all the information you need to play your favorite games without breaking any state or federal laws.
Legal New York Online Casinos
In the United States, all forms of gambling, online casinos included, are regulated at the state level. Each state has the freedom to decide how it wants to regulate gaming activities within its borders. In New York, there is no law allowing state-regulated online casinos, and gambling at offshore sites comes with its own set of risks.
While playing with offshore operators may not be against New York state laws in the strictest sense, it is still an activity that can cause you a lot of problems, legal and otherwise.
Luckily, you don't have to do this to play your favorite casino games, as several perfectly legal options present themselves in sweepstakes casinos. These social gaming sites operate on a sweepstakes model, which makes it possible for them to offer real money prizes.
Pulsz Casino New York
Pulsz is one of the most reputable names in the world of social casino gaming. The site has been around for several years and has established itself as a fun, player-friendly, and, most importantly, trustworthy platform.
Like the rest of the sweepstakes casinos we recommend, Pulsz is completely legal in New York and offers two modes. You can play with Gold Coins just for fun or with Sweepstakes Coins if you want to also have the ability to redeem cash prizes.
The operator knows how to treat its players right, with various bonuses and promotions available around the clock. For those who get more involved with the brand on its social media channels, there are many prizes up for grabs every single day.
It is also one of a few social sites that maintain an actual VIP program, so the more you play and the more purchases you make, the more perks you'll have access to.
Pulsz also offers one of the richest gaming libraries, with hundreds of popular slots and several table games. While the latter is still pretty scarce, at least you'll find a few basic options if you ever want a change of pace.
McLuck Casino New York

McLuck is a relative newcomer to the world of social gaming sites, and, like the rest of them, it welcomes NY online casino fans. You can sign up and get started with no fuss, and you'll even get a nice batch of Gold and Sweeps Coins to kick things off.
If you like to have a bit more variety when playing online, McLuck social casino doesn't disappoint. There are well over 400 slots to choose from, and the site's gaming portfolio constantly grows with new titles added on a regular basis.
McLuck Casino NY hosts games from popular studios such as Pragmatic Play, BGaming, Playson, and Relax Gaming, and if you're a casino fan, you've probably heard of and had ample opportunity to enjoy slots from these providers.
Despite its fairly robust gaming portfolio, McLuck doesn't host any table games, which is probably this site's only real downside. Hopefully, this will change in the future, as having at least basics like blackjack and baccarat would be nice.
In the meantime, if you enjoy slots, you'll feel right at home here. There is even a site-wide progressive that you can opt into and have a shot at a big win every time you play.
Funzpoints Casino New York

Funzpoints is a social gaming site that accepts players from almost all US states, including New York. You can play for free for as long as you like, but you can also enjoy the Premium mode. In the Premium mode, points you win playing slots can be exchanged for cash prizes.
This isn't the biggest or the richest social casino you'll find, but it has its charm. There are over 75 video slots on offer, and you won't find these titles anywhere else. The downside is that Funzpoints only offers slots; there are no table games like blackjack or roulette.
The site also features daily jackpot draws that are entirely random. However, the more you play, the more tickets for the draw you'll collect, improving your winning chances.
Funzpoints offers a simple, fun, and, most importantly, completely legal NY online casino platform where you can enjoy a decent number of games without any concern. The site also enjoys a good reputation with the players when it comes to redeeming prizes, so should you get lucky, you won't have to worry about that aspect.
Chumba Casino NY
It's impossible to talk about US sweepstakes casinos and not mention Chumba. It is one of the longest-standing and best-known brands in the world of social casino gaming.
The site has been around since 2017, allowing it to create a big player base and a high level of trust among its customers. It is a safe, legal, and reliable option for all fans of casino games in New York and beyond.
Despite its longevity, Chumba doesn't have the biggest gaming library. There are about 100 slots featured on the site, and they're operator-specific. You won't find any of the titles from big studios like you will at McLuck or Pulsz.
The gaming library may not be huge, but it's big enough for most players. On top of that, Chumba Casino has a great reputation for a quick and simple prize redemption process, which plays a huge role when deciding where to play.
New York Casino & Gambling Laws
In New York, gambling is legal but strictly regulated. All gaming activities are overseen by the New York State Gaming Commission, and they're the body in charge of issuing casino licenses and making sure all licensees conduct their business in accordance with rules and regulations.
Laws regulating gambling in NY have changed quite significantly over the last few decades. The state got its first tribal casinos in 2001. However, it took over a decade before commercial casinos were introduced. This happened in 2013 when four private venues finally opened their doors.
When it comes to gambling activities, the New York State law is focused on those promoting and advancing illegal gaming, and they can face serious consequences, including jail time. Players don't have much reason to worry as the state doesn't go after mere participants, but this still doesn't mean you should get involved with offshore casinos.
⭐ Online Casino Regulation in New York
As mentioned, real money online casinos are still illegal in New York. While the state finally passed a bill regulating online sports betting in 2021, things are moving much slower on the casino front.
There have been several attempts to regulate online casinos in NY recently, and it seemed like the state was close to regulation a few times. However, none of these proposals made it to the governor's desk.
There were some hopes that a NY online casino bill would pass in early 2023, but this did not happen, and as things stand right now, the earliest we can hope for things to change is 2024. If current drafts and proposals are anything to go by, there should be no significant restrictions in terms of allowed games, so that, at least, is good news for the players.
There is no doubt that the likes of BetMGM, DraftKings, BetRivers, FanDuel, and other major operators with a strong presence in the US will be eager to get their foot in the door as soon as possible. New Yorkers will likely have ample options available to them as soon as online casinos are legalized, but it's still impossible to say when exactly the legalization might happen.
Sweepstakes Casinos vs. Offshore Online Casinos in New York
As things stand now, New York players can choose between offshore casinos and sweepstakes social sites to satisfy their gaming needs. So, which option should you go for?
We've mentioned several times that sweepstakes casinos are by far a superior option, even if players in NY don't have to worry too much about legal consequences. While offshore sites do offer some perks, such as bigger bonuses and larger gaming libraries, there are still too many risks that you'd rather avoid.
Check out our top few reasons why playing at sweepstakes casinos in New York is a better choice and why you should avoid offshore sites under all circumstances.
⭐ The Player Protection
In the strictest sense, neither sweepstakes nor offshore sites are properly regulated, at least not in the United States. Since only state bodies can regulate casinos if there is relevant legislation, it may seem there isn't much difference between the two.
However, sweepstakes casinos operate in line with federal laws and don't break any of the current financial and other regulations in the United States. No real money transactions are taking place, and these operators are very careful not to break any rules, as this could cost them their entire business.
Offshore casinos don't concern themselves with these matters, as they operate contrary to the UIGEA. Their presence in the country is against the law, but they manage to stick around somehow.
This means you're much better protected at sweepstakes sites that care about their reputation and have something to lose if players are unhappy. Offshore casinos in the US don't have to worry about it, as they are already breaking the law, so they don't have anything on the line.
⭐ Deposits & Withdrawals
Sweepstakes casinos don't have traditional deposits and withdrawals, but they let you buy their Gold Coin packages and reward you with Sweepstakes or Premium coins or points you can play with and exchange for real prizes.
Because of this model, they can operate in New York and elsewhere in the US without any legal challenges. Their actions don't contradict the laws, as they're not traditional casinos, so your purchases are not blocked, and you will receive your prizes without any issues.
On the other hand, offshore casinos are clearly violating the UIGEA. This means that your deposits will often fail, and your withdrawals will take forever to complete. Your bank may also decide to deny any transactions coming from questionable sources and, if the amount is big enough, even close your account to avoid any potential problems they might face.
⭐ Better Gaming Environment
Sweepstakes operators feature a model much different from that of traditional casinos. These sites were designed to allow you to have fun even without spending any money. You can enjoy your time and even win some real money prizes without making purchases.
This is not the case with offshore sites. They're focused on real-money play, and while some offer demo versions of the games, they don't have a system to track your results in the "fun" mode.
If you're more of a recreational player, Sweepstakes NY online casinos will be a much better choice. You'll have a lot of fun while spending less money or, if you so choose, without spending anything.
⭐ Smaller But Transparent Bonuses
Sweepstakes casinos are not as generous with their bonuses, and you can't expect to get a massive amount in freebies when playing on these sites. In that aspect, offshore casinos seem like a much more appealing alternative.
However, the bonuses you do find at sweepstakes sites are very straightforward, easy to claim, and usually come with very few restrictions. These are gifts issued for your loyalty, and you can usually use them as you like.
Offshore casinos promise many things to US players, but when it comes to delivering these promises, you'll often encounter unpleasant surprises, such as unrealistic wagering requirements and restrictive withdrawal limits.
How to Play at New York Sweepstakes Casinos
Sweepstakes sites have been around for a while, but not all New York online casino fans have had a chance to play on one of them. If you happen to be in this group, don't worry. Signing up is easy and takes only a few minutes.
If you'd like to check out what social casinos have to offer and why so many people flock to them, follow these simple steps and find out for yourself.
Step #1. Pick the Platform
The first important step is choosing the social casino to play at. Several quality operators are available in New York, and we suggest you start with one of our recommended sites. This will help ensure you play at a reputable and trustworthy platform and avoid any issues out of the gate.
Beyond this, make your decision based on your preference. Check out what kind of games are on offer, the type of promotions available, and other things that may be of interest. Pick a platform that best aligns with your overall gaming preferences.
Step #2. Sign Up for a Free Account
Opening an account with any social casino is completely free. When you decide where you want to play, visit the website and follow the provided instructions.
You can usually create an account with a few simple clicks using your existing Facebook or Google account. This is the fastest way to get started, as you don't need to enter any additional information. An account will be automatically created, and you'll gain immediate access to the platform.
Step #3. Obtaining Coins / Points
Sweepstakes casinos only sell their "fun money" packages, meaning you can only purchase Gold Coins directly. However, with every purchase, you'll also receive a certain number of free Sweepstakes Coins that you can exchange for real money prizes.
There is always a button or a link on the site that will let you see all the available coin packages. Choose the one you like and then complete your purchase by entering relevant details.
To be able to play with Sweepstakes Coins, you'll need to complete your account profile, i.e., enter your full name, surname, physical address, and any other missing information. The casino will also require you to go through the confirmation process by sending in photos of relevant documents to prove your identity.
Step #4. Playing for Cash Prizes
Most social online casinos in NY operate on a very similar model. There are two modes or skins on every site. One is just for Gold Coin or fun play, while the other is for Sweeps Coin play, i.e., playing the games that allow you to win real prizes.
You can easily switch between the two, and you'll always see both your balances clearly displayed. It may take you a little while to get used to this model, so for the first day or two, it's a good idea to double-check what mode you're playing in and make sure you're on the correct side.
Step #5. Redeeming Cash Prizes
Redeeming prizes is a pretty straightforward process. A link on the main site or in your account section gives you access to the redemption page, where you'll enter the number of coins you wish to redeem and see how much cash you're entitled to.
Keep in mind that different sites have different minimum and maximum thresholds for single transactions. You can always find this information in the FAQ section or contact customer support for clarification.
Once you request the prize redemption, you can expect to receive money in your bank account within a few days. Smaller transactions are processed faster, but even bigger ones will reach you in a reasonable time as long as you stick to tried and tested New York sweepstakes casinos.
Best NY Online Casino Games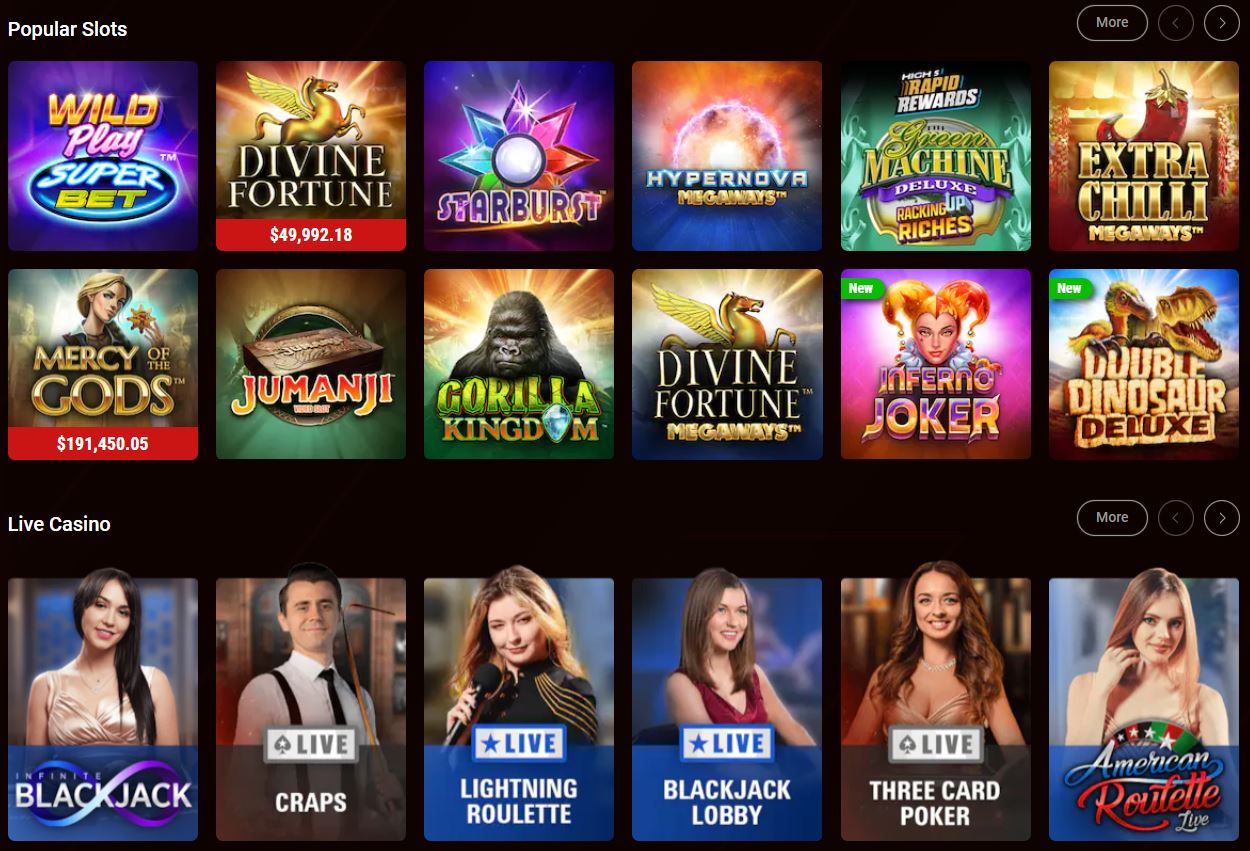 If you decide to stay away from offshore casinos and play only on legal sweepstakes sites, you'll have to be satisfied with a somewhat limited selection of games. That said, the situation is much better today than it was a few years ago.
Casino players in New York can enjoy a decent number of games, whether they prefer to play for fun or with a chance to win real prizes. Below, we're bringing you an overview of the most popular NY casino games.
New York Casino Slots
Sweepstakes casinos in New York have a very solid selection of online slots. Depending on what site you choose to play at, you'll find anywhere from a few dozen to several hundred video slots.
Some sites like Chumba prefer to offer proprietary games that you won't find elsewhere. These are fun and colorful slots that are definitely worth trying. Then, others like McLuck fill their gaming portfolios with titles from well-known suppliers like Pragmatic Play, Relax Gaming, and Playson.
The choice is ultimately yours, and nothing is stopping you from having accounts with more social casinos. Both types of slots have a certain appeal, so it's down to your personal preferences.
One upside of slots from famous studios is that you may already know how they work, and you can be certain that their RTP numbers are correct. On the other hand, proprietary games bring the novelty factor and can be a great way to break the routine and find some new favorites.
Jackpot Slots at New York Online Casinos
Many NY online casinos offer some kind of a progressive jackpot. Some of them allow players to opt in, play any game they like, and have a shot at the jackpot. Others will only offer jackpots on select games.
These progressive jackpots can reach substantial amounts, often venturing into the six-figure territory. To have a chance at winning a jackpot, you'll sometimes have to pay a small fee on each spin, which increases your bankroll exposure but also gives you a shot at a huge win that normally wouldn't be available, especially if you play at lower stakes.
There are many pros and cons of progressive jackpot slots that we won't go into right here. However, you should know that sweepstakes casinos in New York do offer these games, so if they're your cup of tea, you'll feel at home.
Table Games Selection
If you're a fan of table games, your options will be much more limited. Most sweepstakes casinos focus on video slots and provide very little beyond this.
However, there are still some sites like Chumba and Pulsz that provide a few popular games like roulette, blackjack, and even some versions of poker. You can also find a limited number of scratch cards for some instant action.
If you don't play slots at all, you might find that legal NY online casinos don't live up to your expectations. That said, things might change in the future as these sites constantly evolve and add new games to the mix.
Live Dealer Casino Games in NY
No live dealer games are available at any of the legal gambling sites in New York. Sweepstakes casinos are limited to electronic games for the time being, and this may remain the case for the foreseeable future.
Live dealer tables are available at numerous offshore casinos, where you'll find dozens and even hundreds of options. That said, we must once again caution you against playing on these sites, as too many risks are involved.
Future of NY Online Casinos
The future of online casinos in New York remains uncertain at this time. The passage of the bill regulating online sports betting in 2021 was a good signal, but almost two years have passed since, and the state is still not much closer to having regulated online casinos.
A couple of proposals might come through and finally bring online casinos to New York; if that happens, we'll likely see a surge of operators coming to the state to set up shop.
One thing is certain. New Yorkers will not have access to any state-regulated online casinos before 2024. If things line up correctly, we could see the legislation passed at some point in 2024, but we'd caution against too much optimism.
If and when legal casinos are made possible, a few sites will almost certainly apply for a license immediately.
⭐ BetMGM Casino NY
BetMGM already has a presence in New York via their sportsbook, and there is no doubt the operator would be thrilled to add their casino platform to the mix as soon as possible. So, it's safe to say BetMGM Casino NY will exist at some point in the future.
This is great news for New Yorkers, as this is one of the US's biggest and most reputable casinos. Featuring close to 1,000 games, from slots to live dealers, and various bonuses and promotions, it will bring everything players could ask for.
⭐ DraftKings Casino NY
Like BetMGM, DraftKings is already a part of the New York gaming market through its online sportsbook. This is another famous and very popular brand across the country, and it's hard to imagine they'd pass on the opportunity to obtain a casino license and expand their market presence.
DraftKings Casino NY will likely feature a decent gaming library and a generous welcome bonus for newcomers. A big welcome bonus has been a staple of this operator in other states, and there is no reason to think they'll change this approach when entering such a competitive and desirable market.
⭐ FanDuel Casino NY
Third on the list of likely NY online casinos once the legislation is passed is FanDuel. Like the other two, FanDuel already operates an online sportsbook in the state, so adding a casino to the fold would be a natural next step.
While the operator has always been more into sports betting, their casino platform is quite nice and offers some options that other operators don't, especially in terms of promotions and overall player engagement. With that in mind, FanDuel Casino NY could likely find its place under the New York sun despite heavy competition.
How to Stay Safe Playing at NY Online Casinos
There is no such thing as too much caution when doing things online, especially when dealing with online casinos. Staying smart and alert is important as it will help you avoid problems and unnecessary financial losses.
If you want to play at NY online casinos, we'd advise you to follow these few simple steps. They are easy enough to adhere to, yet can help you immensely.
Tip #1. Offshore Casinos Are a No-Go
There are many offshore casino sites accepting players from New York. Many of them have really amazing welcome bonuses and impressive gaming libraries. So, if you're a casino fan, it's not hard to see why you'd be attracted to such sites.
However, if you want to stay safe and protect your money and your information, we must advise you to avoid them. As mentioned, these sites are already outside legal boundaries, so the likelihood of something going wrong is too high.
Simply put, a few extra games or a slightly bigger bonus aren't worth the risk of your entire balance disappearing due to the site shutting down or your information getting into the wrong hands due to the operator not caring about privacy laws.
Tip #2. Stick to Sites With Proven Track Records
While all sweepstakes casinos are technically legal in New York and the US, not all of them have been created equal. There are some bad apples, even among social casinos, so you must be careful when choosing.
Always stick to reputable operators that have earned the trust of the players. Check out independent reviews, talk to other players on forums and social media, and gather as much information as you can before committing.
Tip #3. Keep Your Gaming Funds Separated
Even though social casinos don't have traditional deposits, you'll still be making financial transactions when purchasing coin packages. With this being the case, it's always a good idea to add some extra protection for your peace of mind.
We suggest you use a special credit or debit card only for gaming transactions. This will limit your exposure if something goes wrong and help you keep tabs on your expenses. Spending too much money on social gaming sites is still possible, so setting up some limits is good.
Tip #4. Use Responsible Gaming Tools
Tying into the previous tip, you should also take advantage of responsible gaming tools provided by the sites. Almost all of them will allow you to put a limit on daily, weekly, and monthly purchases, and we advise you to take advantage of these opportunities.
Spending more than you can afford is the best way to ruin your gaming experience and create financial problems in your real life. You can avoid all that by setting up the limits and enjoying your favorite games in a smart and responsible manner.
Tip #5. Cash In Your Prizes Often
While something must be said about keeping a big balance in your casino account (for a sense of achievement), it's probably not the best idea for several reasons.
First of all, when you have a lot of money or coins in your account, you'll be more tempted to play higher stakes and risk more. This can cause you to lose your winnings, which is never a good feeling and can lead to other irresponsible decisions.
Secondly, your transactions will be faster and smoother if you redeem smaller prizes often. Even when everything is fine, big prizes usually take longer to get processed. On top of that, if there is a problem with the casino, you don't want thousands stuck in your account.
Stick to this advice as much as possible when playing online, and always gamble responsibly. 
New York Online Casinos FAQ