Biggest Casinos in the US – Which United States Casinos Are the Largest?
9 minutes
Last Updated: September 26, 2023
Even the best US online casinos booming with traffic brick-and-mortar casinos have not lost their charm. The casino industry in the US is massive, and many of the world's biggest and most beautiful gambling halls have been built in America.
Yet the biggest and most spectacular casinos in the US are not the ones in places like Las Vegas or Atlantic City, despite those probably being the most famous ones.
In fact, dozens of huge casinos across the US exist outside of these two gambling Meccas.
This is the list of the biggest casinos in the US, and some of the names and locations on this list might surprise you, so let's take a look at those.
#10. Boston Encore Harbor in Everett, Massachusetts  – 200.000 ft2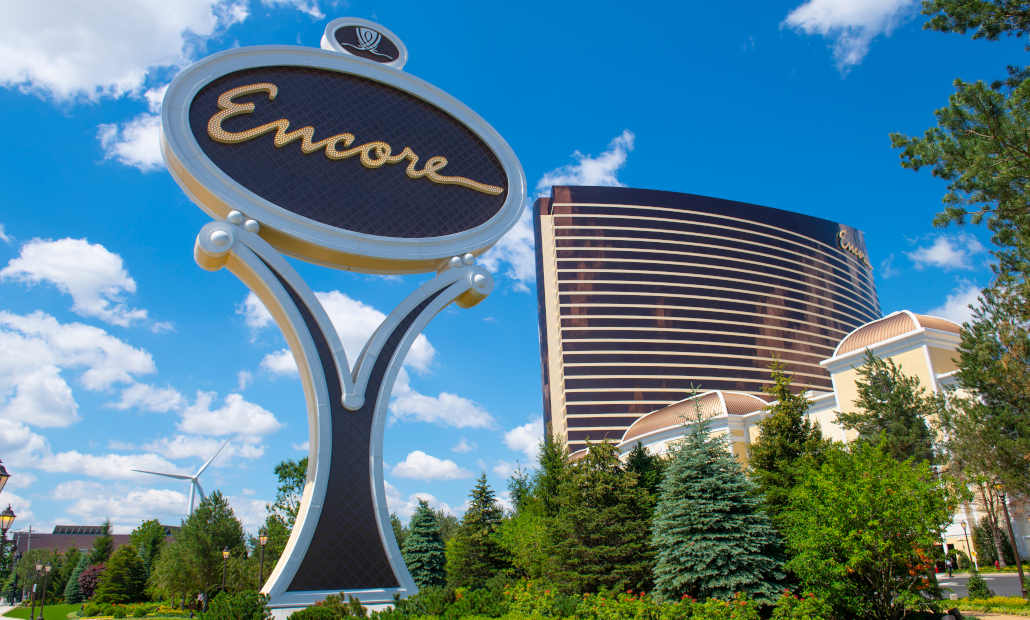 While this casino may have the name Boston in it, it's not exactly located in Boston itself. Yet, it is close enough that all those who enjoy games of chance and live in Boston can easily make the drive on any occasion.
With about the same size as the Soaring Eagle, Boston Encore Harbor caters to more than 5 million people in the greater Boston area and is owned by Wynn Resorts.
Some 3,100 slot machines, 185 table games, and a poker room with 75 tables make sure that players never run out of action to enjoy.
The hotel features just under 700 rooms which accommodate guests during their stay at premium rates and offer a pleasant stay during your gambling adventures.
#9. Soaring Eagle Casino & Resort in Mt. Pleasant, Michigan – 210.000 ft2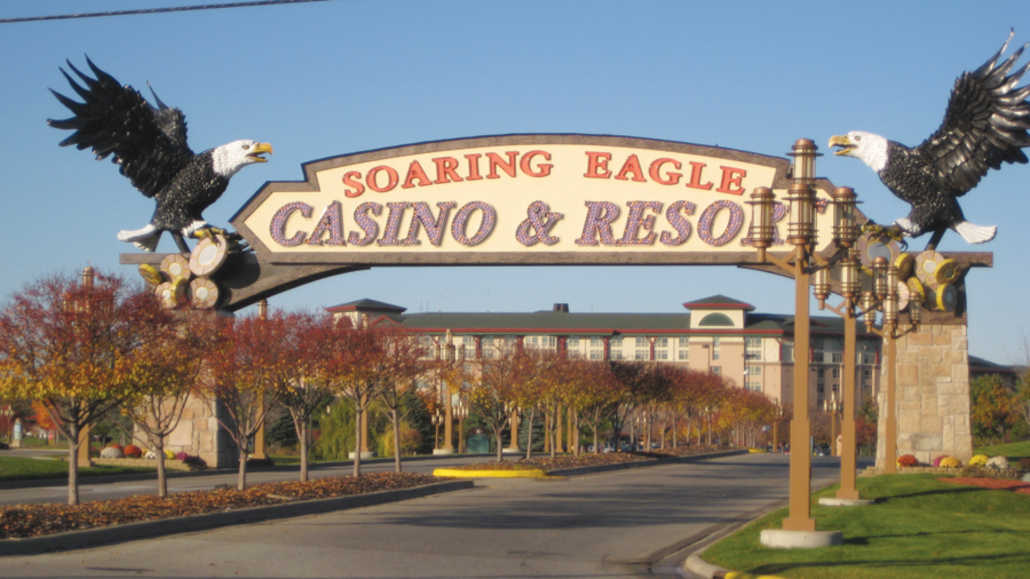 Just slightly smaller than the Riverwind Casino in Oklahoma is another tribal casino, the Soaring Eagle Casino & Resort in Michigan.
This property offers about 210,000 square feet of gaming area and some 4,300 gaming machines, along with 70 table games, a poker room, and a bingo hall.
All of this makes for a pretty impressive casino, and the location is perfect for all the Michiganders out there, as the casino is located in the very heart of the state.
Following the most recent renovation, the casino now also features a high-stakes gambling room and about 560 hotel rooms, which will ensure a pleasant stay and a fun vacation for gamblers from just about anywhere.
#8. Riverwind Casino in Norman, Oklahoma – 219.000 ft2
Our journey across America takes us back to Oklahoma, where we find another one of the biggest casinos in the US.
The Riverwind Casino in Norman does not exactly parallel its two closest rivals, but it still offers about 219,000 square feet of gaming area.
The area is covered by 2,800 slot machines, a couple of dozen table games, and 17 poker tables.
The casino may not sound as impressive as its bigger cousins, but it does feature an absolutely unique and impressive look from both the inside and out.
What's even more, there is only so much gambling a single person can do in a day, and the number of gambling options that Riverwind Casino has to offer is still more than plenty for most.
#7. Seminole Hard Rock Hotel & Casino in Tampa, Florida – 245.000 ft2
Unsurprisingly, the largest casino in Florida is also owned by the Native Americans, this time the Seminole Tribe of Florida.
The casino is one of the biggest in the US and was first launched in 2004. It features 245,000 square feet of gaming space and is made up in the popular Hard Rock theme that is so beloved across the country.
With more than 5,000 slot machines, about 180 tables, and 46 poker tables, the casino is the best place to go if you like to gamble and live in Florida or nearby.
This Tampa property is also quite different than some of the other casinos on this list, as the musical theme is ever-present across all its facilities.
You will find unique hard rock-themed elements in your rooms, guitar-shaped structures across the resort, and plenty of great music to go around.
The unique 13,000 square foot area with a $1,000 per spin slot machine is one of the great attractions of the casino.
For the most part, Seminole Hard Rock Hotel & Casino does not ban smoking, which leaves only 26,000 square feet of smoke-free gaming area, which may be a con for some players.
If you don't mind some smoke and you enjoy high-stakes action, Seminole Hard Rock Hotel & Casino in Tampa is the ideal place to visit.
#6. Thunder Valley Casino Resort in Lincoln, California – 250.000 ft2
If you live in California and would like to experience the allure of Las Vegas but don't want to travel quite as far, Thunder Valley Casino Resort may be the right place for you.
Built in 2003, Thunder Valley was meant to replicate the charms of Las Vegas in every way and is located in Lincoln, California.
Like the other biggest casinos in the US, Thunder Valley Casino Resort is owned by Native Americans and is the property of the Auburn Indian Community.
The property includes about 250,000 square feet of gaming space, which hosts some 3,500 slot machines and about 125 table games.
While Thunder Valley may not be quite as large as some of the competitors, it offers some of the best VIP services and high-stakes casino games around, along with the year-round warmth that comes with being in the heart of California.
The Whitney Oaks Golf Club is a part of the resort, offering all golf lovers out there a perfect way to spend their days before an evening of gambling at the casino.
For the ladies who might prefer to stay away from golf and the casino, an impressive spa area offers massages, pools, and plenty of other amenities that will make for a perfect vacation.
#5. Yaamava Resort & Casino in Highland, California – 290.000 ft2
Once known as the San Manuel Indian Bingo & Casino, the Yaamava Resort and Casino underwent a very recent expansion and now features more than 290,000 square feet of gaming space.
The property features more than 1.4 million square feet in total and can rival some of the biggest and most successful resorts in the world as of December 2021.
The gaming area itself now features 6,500 slot machines and 123 casino tables, with a little something for every type of gambler.
The Yaamava Resort & Casino caters especially to high-rollers as it has five separate high-stakes gambling rooms.
Yet, there is no poker room at the Yaamava, and the relatively modest 432 hotel rooms set it apart from the likes of Mohegan Sun or Winstar.
Nevertheless, if you live in California and would prefer to stay on the west coast, Yaamava may be the place to go to, especially given how fresh and new everything is guaranteed to be now that the renovations are completed.
#4. Choctaw Casino Resort at Durant, Oklahoma – 300.000 ft2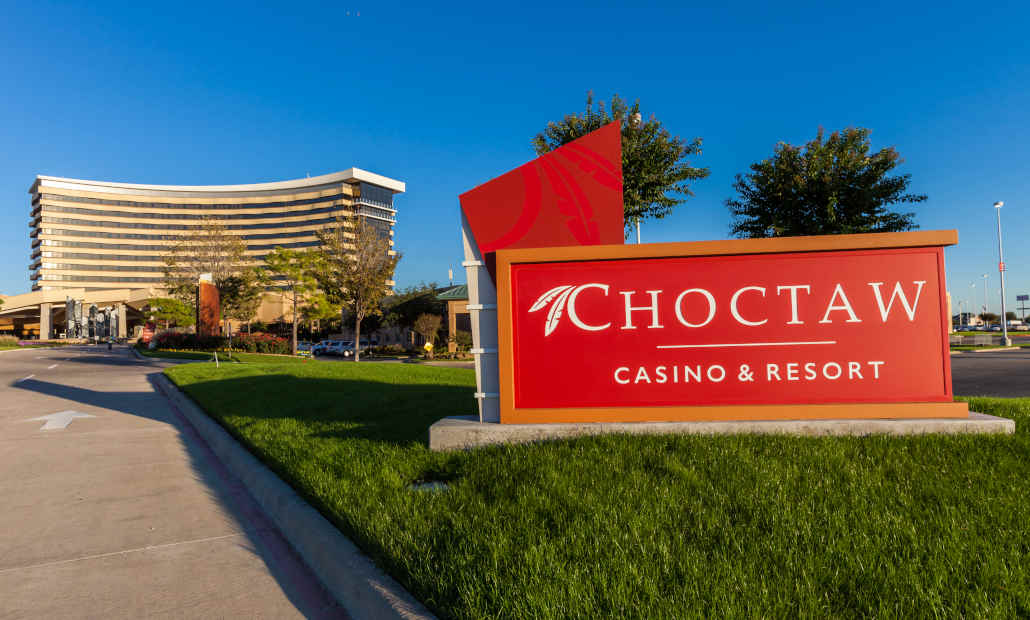 Just like Mohegan Sun has Foxwoods as its big rival, so too does Winstar have Choctaw Casino Resort to rival its dominance in Oklahoma.
Yet another massive complex built on tribal land, Choctaw saw a massive renovation completed in 2021, which made it one of the most impressive casinos in the country.
With some 300,000 square feet of gaming area, Choctaw features more than 7,400 slot machines, and just over 100 casino tables and 25 poker tables.
While the resort itself is not as impressive in amenities as some of the others, it does offer more than 1,700 hotel rooms and 16 different restaurants, with the Butterfilelds Buffet being the most popular one around the world.
While Winstar may be the slightly bigger of the two Oklahoma properties, you will not be sorry if you visit Choctaw Casino Resort either, and you can definitely expect a similar level of service at both.
#3. Foxwoods Resort Casino at Ledyard, Connecticut – 344.000 ft2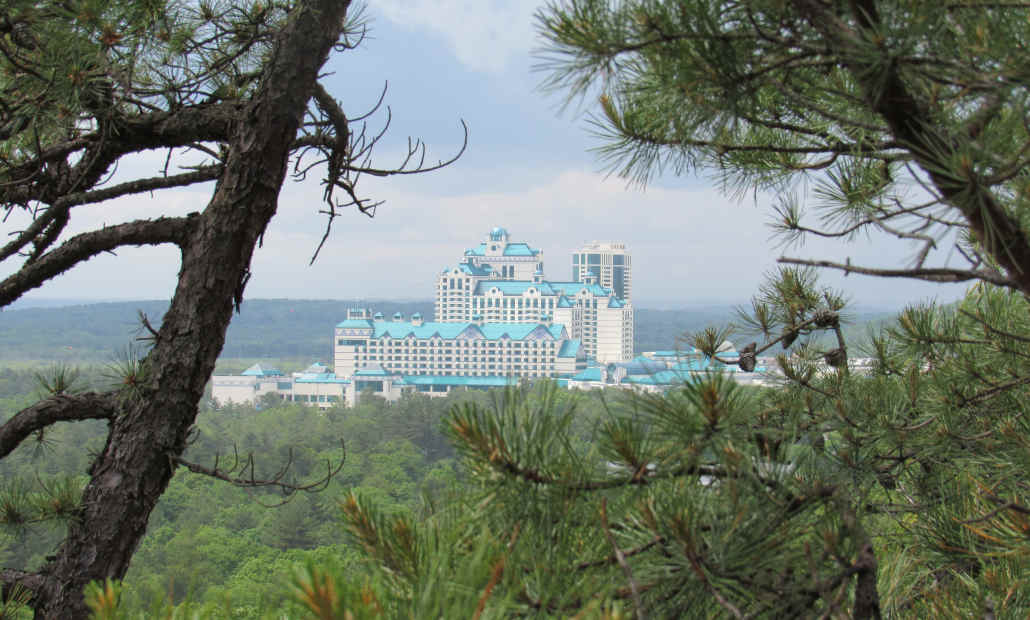 Just ten miles away from Mohegan Sun, you will find the Foxwoods Resort Casino, the third largest casino in the US, and another one built on tribal land.
The casino, which is owned and operated by the Mashantucket Tribal Nation, is found just 140 miles north of the great metropolis of New York, the biggest source of its visitors.
The resort covers a total of 9 million square feet of indoor space, 344,000 square feet of which falls off to gaming space, which is split into six separate casino spaces.
Such a huge gaming area is bound to have something for every gambler's taste.
More than 4,500 slot machines and 260 separate table games make it one of the most versatile casinos around.
On top of all the regular gaming facilities, Foxwoods also features a poker room with 114 tables, which makes it the third biggest poker room in the US.
The resort itself is one of the largest in the country as well, with an incredible 2,266 hotel rooms, a massive shopping mall, golf course, spa, and even extra activities like zip lines and bowling.
Foxwoods Resort Casino is truly an all-around experience and a place where you can come with your friends, your family, or by yourself and expect to have a truly amazing time.
#2. Mohegan Sun in Uncasville, Connecticut – 366.000 ft2
Another casino and resort constructed on tribal land, Mohegan Sun, was first opened back in 1996 and is made up of three casino areas called Casino of the Sky, Casino of the Wind, and Casino of the Earth.
The casino, which features an incredible 366,000 square feet of gaming space, is located in another unexpected location, well away from the famous gambling hubs of Las Vegas and Atlantic City.
Mohegan Sun is the biggest rival of the Foxwoods Casino, which is situated just miles away from the property.
The two feature similar size gaming spaces and offer a lot of the same games and amenities, which has left the two competing for many years.
At Mohegan Sun Casino, players can expect access to all sorts of gambling games, including more than 5,000 slot machines and over 300 tables for casino games, about three dozen of which make up the impressive poker room that is open around the clock.
With over 1,500 rooms for guests to stay in, two separate spa areas, a massive convention center, and plenty of shopping opportunities, Mohegan Sun has plenty for everyone who might want to visit the impressive resort, whether they intend to gamble or simply unwind and relax.
#1. Winstar World Casino & Resort in Thackerville, Oklahoma – 400.000 ft2
Of all the places out there, the largest casino in the US and the world is located in Thackerville, Oklahoma, and is seated fully on Native American land.
Like many casinos across the country, Winstar World Casino & Resort is a tribal casino, and this means it is not subject to regular US taxation and other laws.
The massive complex was built in 2003 and has since held the title of the largest American casino with pride.
At Winstar, you will find 600,000 square feet of gaming space, split into four separate gaming areas, each mimicking a beautiful landscape of a metropolis, with New York, Beijing, Paris, and Rio de Janeiro all represented.
Each of these four gaming plazas offers different games and tables, with more than 8,000 slot machines and hundreds of tables spread across them.
Every casino game you can imagine is on offer at Winstar World Casino & Resort, including variants of blackjack, roulette, craps, poker, and much more.
A separate non-smoking poker room allows fans of games like Texas Hold'em to enjoy hours of competition and entertainment while gamblers flock to the casino pits and play their games of choice for any stakes they prefer.
The resort is just as impressive as the casino, featuring more than 1,400 rooms, a golf course, an active nightclub, bars, spas, pools, and a huge convention center.
Winstar World Casino & Resort is ideal for every type of vacation you can think of, and while it may not be in Vegas, it is guaranteed to give you an experience of a lifetime if you do choose to visit it.