Slots RTP in Online Casinos – How to Pick the Best Games
8 minutes
Last Updated: September 26, 2023
Of all the casino games you can play online, slot machines are easily the most popular and most commonly played in the United States.
While other games may be offered in only a few different versions, the best US online casinos offer hundreds, if not thousands, of various slots. Yet, not all slots were made equal!
There are massive differences in the way slot games operate, and the slot RTP is one of the most important factors to look at.
An average slots player might not even know what RTP stands for, let alone what it represents, which is why you take the time and learn this.
This guide will teach you all about slots RTP, how slots developers use it, and what types of games offer the best RTP around.
What is RTP in Slots?
The abbreviation RTP, which you commonly see when discussing slots, stands for "return to player."
RTP represents the percentage of the overall money wagered on a slot machine that is returned to players in the long run.
This is the exact opposite of the term "house edge," which represents the percentage of money wagered that the casino wins from the players in the long run.
If the casino edge in a game is set at 20%, this means that 80% of all the money you wager will come back into your balance in the long run. This number represents the RTP.
We now know the general RTP meaning, but how exactly does it work in slot games? It's actually quite simple, although it may seem abstract at first.
Imagine you are playing a slot game and betting $1 per spin. In reality, you will either lose the $1 or manage a win on that spin, which could be worth $1, $2, $5, or maybe even $1,000.
From this spin alone, it would be impossible to know the slot RTP, as each spin is either a winning or losing one. Yet, if you were to spin the reels a million times, betting $1 each, you would end up with approximately the same amount of money as any other player who played a million spins.
This is because, over such a large number of spins, the game's variance will even out, and you will come very close to the game's real RTP percentage.
In some games, it may take even more than a million spins for the RTP to even out, but the truth is that the higher a slot's RTP is, the more likely you will get some money back each time you spin the reels.
🎰 Bonuses, Features, and Volatility in Slots
Slot's RTP is certainly the biggest determining factor in how much money you get back from spinning the reels of a game and how much you lose in the long run.
Yet, other factors may make it easier for your RTP to even out, and these have to do with slot volatility.
The higher a game's volatility is, the more spins it will take you to get to the theoretical RTP.
Some US online slots come with very high volatility, while others are not very volatile at all.
Typically, slots with high volatility have few winning spins but also have valuable bonus features or free spins rounds that can instantly pay out hundreds of times your initial bet.
On the other hand, low volatility slots come with few gameplay features and are fairly simple games, with typical payline wins being the most frequent way to win money in them.
If you want to ensure that you don't steer too far from the game's RTP in the short term, you should play slots with low volatility.
On the other hand, if you want to gamble it up and hope for a hot run, you would be wiser to choose a slot game with the high volatility that has the potential for massive short-term wins.
What Is a Good RTP in Online Slots?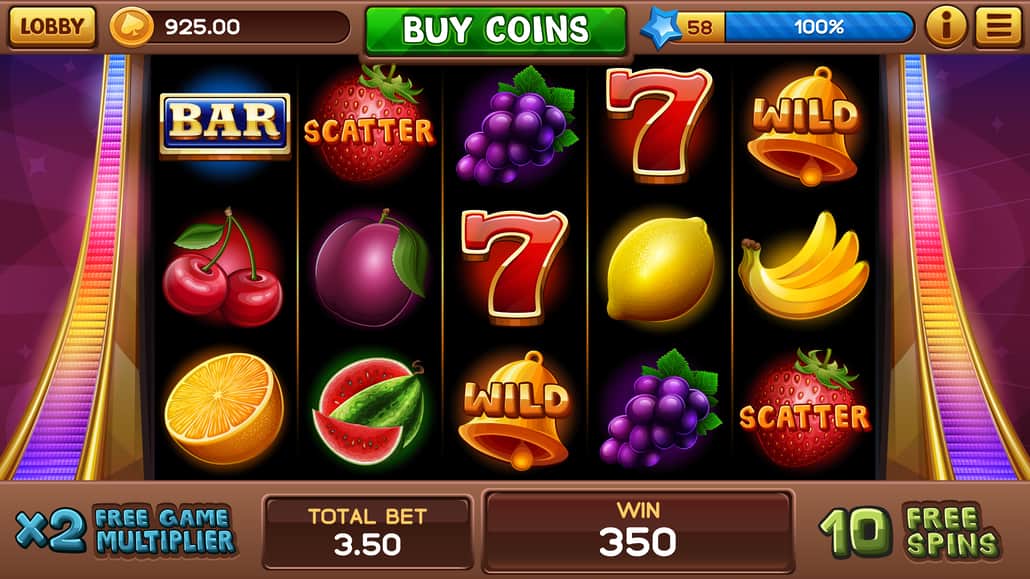 Slot's RTP percentage tends to vary based on many factors, just like other casino games.
For example, routinely offer an RTP of more than 95%, with European Roulette having an RTP of 97.3% and some versions of blackjack as high as 99.5%.
Fortunately, US online casinos offer a higher RTP than their live counterparts, with practically all online slots coming with an RTP of over 90%.
The best slot games offer an RTP of more than 97%, with a few titles even going as high as 99% overall.
Any experienced online slot player will tell you that you should never even consider any slot with a return to player lower than 95%, while 96-97% is ideal. Remember to get the best signup bonus if you decide to join a new site, and look for high RTP games to clear it out easily.
Of course, if you really want to maximize your returns, you should go for slots with an even higher RTP, but your selection might be quite tight.
Regardless of your end goal, you should know what the game's RTP is before you start playing it, and here is how you can find that out.
How to Find Out a Slot's RTP
On the face of it, all slots look more or less the same. From just watching the reels spin, it would be very difficult to determine what RTP or slot volatility you are getting from any particular game.
Fortunately, you won't have to make any deductions or calculations, as most modern slots openly advertise their own RTP.
If you go into the game's paytable or info section, you will usually be able to find information about the RTP and other vital information.
Modern slot developers have nothing to hide, and they create various games with different RTP and volatility levels.
Most players still choose their games based on the game theme, graphics, sounds, and animations, so there is no harm in telling the players what RTP they are getting.
Most players don't even know what it stands for, so they won't mind seeing 95% or even less in some games.
However, you should pay attention and make sure that you are playing a slot with a high RTP before all other things, and only then concern yourself with how the game looks, sounds, or feels to play.
✔️ Check Slot Reviews for Detailed Info
There are still some slot games that don't openly tell you the RTP; in that case, you will have to dig a little deeper to find out. Slot reviews are the best place to look for RTP info, as these articles focus heavily on what the game has to bring regarding returns.
You can also learn a lot more from reviews, such as how the bonus rounds function, whether or not you can get free spins in a game, etc.
For slot players, there is a ton of value in reading through slot reviews before actually playing the game, as it helps avoid bad and boring games that don't bring much value.
I would always recommend reading through some reliable slot examinations before playing any new game, as this is the best way to find out what you are getting yourself into.
Where to Play the Highest RTP Slots
Now that you fully understand the RTP meaning, it's time to find some great slots with high RTP and start playing.
But where exactly do you go to play? Well, there are a few options, but there is only one good option that I can recommend.
US slot players should always choose legitimate and licensed online casinos instead of any offshore sites.
Playing at a casino site licensed for real money gambling in your state will save you a lot of headaches in the long run. On top of that, licensed casinos offer slot games with high RTP percentages that are verified and guaranteed by gambling commissions.
On the other hand, playing at any unregulated site means you risk playing games with false advertising or simply rigged slots.
By joining one of the online casinos licensed in your state, you can pick from a long list of slot games produced for your market and 100% optimized to cater to your needs as a slot player. You can check out our list of recommended licensed US online casinos and pick one of the highest-rated sites from it for a guarantee of an amazing gameplay experience.
FAQ