Slots Volatility Breakdown – Understand Your Favorite Slot Games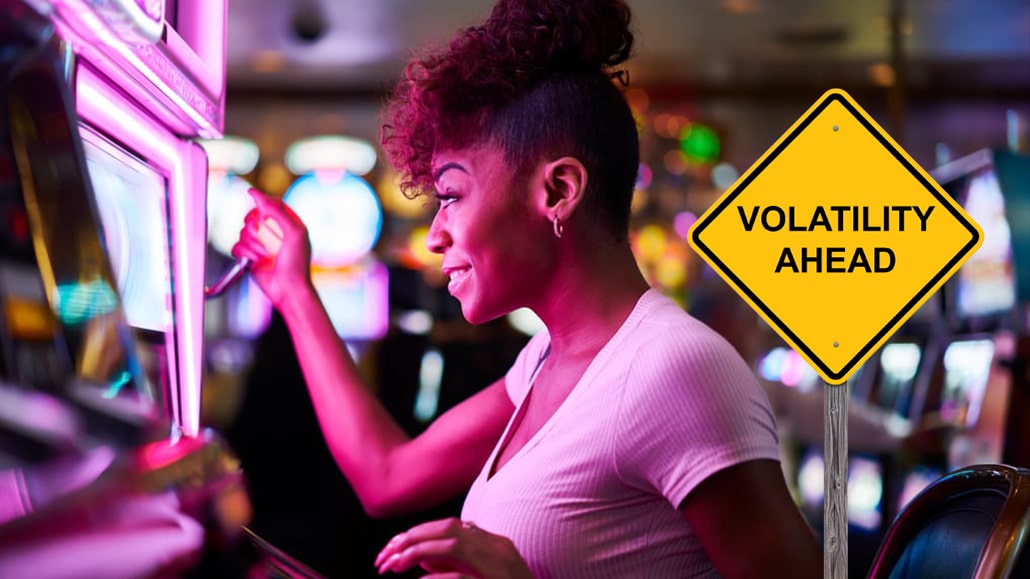 8 minutes
Last Updated: September 26, 2023
Most slot players tend to look for slots that offer certain features and properties that make games more appealing. Among these are RTP and maximum payout, which are both reasonable indicators of how good a slot game is.
One commonly overlooked property of slots is volatility, which determines how often you get paid and how big is an average winning.
Some slots are highly volatile, which means they offer fewer payouts of greater value, while others are low volatility slots that offer more frequent but smaller payouts.
Most players completely forget to consider volatility in online slots, which can be a costly mistake in the short run.
This guide will explain what volatility means in slots, cover different levels, and see how you can identify them.
What Does Volatility Mean in Slots?
The slot volatility is a term used to express how extreme the payouts in a specific game are, both in terms of big and small numbers.
To explain the volatility in terms that make more sense, you can think about a slot as if it were a roulette wheel.
On a roulette wheel, you can make bets like red/black or odd/even. These bets have almost a 50% chance of bringing you a return, making them low-volatility bets. You will win almost every second bet in the long run, so it is very unlikely to have big and long losing stretches.
With a low volatility bet, you will never win too much at one time, but you will get some money back quite often.
On the other hand, you can also take your money and put it all on a single number on the roulette table. In this case, you will only win one out of 37 times.
Of course, you will get back a huge payout when you are lucky to hit that number, but this will happen less frequently than betting on color. This is a great example of a high-volatility bet that brings high risk and high returns.
When talking about slot volatility, things are exactly the same.
Low volatility slots bring many small payouts but rarely pay big, while high volatility slots don't pay as often but have the potential for massive single wins.
The decision on whether to play high or low volatility slots falls on the player playing them and depends on whether you are someone who wants to gamble it up or play for a long time without much risk.
🎰 Does Volatility in Slots Matter?
This is a great question when talking about slot volatility, so does it impact the game's RTP and the final result?
The answer is both yes and no. For instance, a low and a high volatility slot with a 96% RTP will pay you back exactly 96% of all the bets you made if you spun the reels a billion times.
Yet, no player will ever play a billion spins on slots since you usually will play a thousand spins in a night or even less.
In that single session, a low volatility slot may end up paying back something like 80% or 120% of the bets you made, while the high volatility slot may pay 20% or 250% of your bets.
In fact, the results can be even more extreme than this, especially with high volatility slots, some of which can win you thousands of dollars in a single lucky spin.
So, slot volatility can matter depending on your hopes from the games, but it can also be irrelevant if you are just looking to have a good time.
That said, let's talk about specific types of slots volatility levels and what you can expect from each.
Low Volatility Slots
Of all the slot games, low-volatility slots are perhaps the least entertaining to play because the element of surprise and the adrenaline rush of winning big are not really a part of the game.
Most low volatility slots are fruity games with simple symbols and layouts, and most payouts in these games come from simply combining the symbols across paylines.
Many low volatility slots don't offer any bonus games or simple bonuses that don't have a big payout potential.
On the other hand, the upside of low volatility slots is that they offer many small payouts. You will hear the reels ringing almost every second spin, with at least a part of your bet returning to your balance.
You can play most low volatility slots for many hours without losing too many bets, which makes these games good for clearing casino bonuses without having high swings.
Medium Volatility Slots
Most slot games you have had a chance to play probably fall into this category. These games are not extreme in either way, and they offer a little bit of both the adrenaline rush and the stability of low volatility slots.
In medium volatility slots, you may win a jackpot worth 1,000x your bet, or even more, every once in a while.
More frequently, you will be awarded free spins or bonus rounds that tend to pay anywhere up to 100x your bet, which makes for something to look forward to.
Medium volatility slots are ideal for players who don't necessarily want to take massive gambles but are still risk-takers.
In US online casinos, you will find dozens of different slots that fall into this category, and each of them has plenty of exciting features to keep you glued to the screen for quite a while.
High Volatility Slots
Games with the highest levels of volatility fall into this category, but even within it, there are different levels.
High volatility slots have always been the games that offer the biggest payouts and jackpots, with the flipside of potentially big losses and long losing stretches.
More recently, several slot developers have created games with ultra-high volatility, which makes them a gambler's dream.
These games can pay you tens of thousands of times your bet when you get lucky, but they can also easily decimate your bankroll within a single bad session.
Many high volatility slots also offer the "bonus buy" feature, which allows you to instantly activate free spins or other bonuses by paying for them.
All games in this category are very risky to play, and I highly recommend making your bets very small when you do decide to try them out.
How Do I Know the Slot Volatility Level?
In the past, there was no real way to tell the game's volatility level other than playing it for a while and determining it for yourself.
However, "eyeballing" a game's volatility is not always the best way to do it, as these things can take some time to even out.
Many modern games you can find in US online casinos, especially from top software providers, advertise their volatility levels openly for players to know.
Showing the game's volatility on the opening screen lets players know exactly what to expect and pick the games that will best satisfy their preferences.
However, many games still don't openly tell you about the expected volatility level, which means you still need to do some research.
Very often, reading through slot reviews is the best way to find out a game's this information while checking out the slot developer's website can be another way to do it.
In the end, you will find out how volatile a game is if you play it for some time, but this can be a pricey way to determine that the game is too wild for your taste.
💻 Where to Play Online Slots
Whether you prefer low or high-volatility slots, you should be careful where you choose to play your slot games.
As a US casino player, you should always make sure you are playing at properly licensed online casinos, and that means you will have to do some research.
US online casinos are licensed on a state-by-state basis, which means you must find a site that has proper licensing in the state you live in.
It is worth noting that a number of illegal offshore sites also advertise as US online casinos, while they actually have no gaming license anywhere in the US.
If you want to stay safe and make sure that the slots you are playing are safe and fair, you should always play only at regulated casino sites that state regulators regularly audit.
This is the only way to ensure that the games are not rigged and that you are getting exactly what you signed up for.
You can check out our list of recommended licensed US online casinos and sign up for the ones with the best games and most lucrative bonus offers.
FAQ